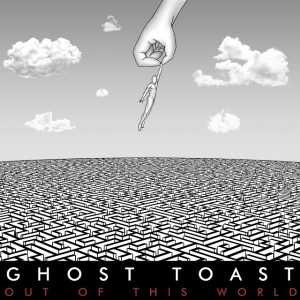 Ghost Toast released their third album Out of This World on the 7th of June and I had almost a small review ready for that special occasion, but as usual the life as a mother with two kids, a full-time job, a garden and a house to take care of came in the way. However Out of This World has been accompanying me for quite some time since I got hold of it and this is why:
The album is a mixture of heavy experimental and trippy prog rock, world music, folk, and electronic music with a cinematic grandiose soundscape. The songs are influenced by the fantasy worlds and mythology of the Dark Tower saga by Stephen King, Dune by Frank Herbert, I am legend by Richard Matheson and greek mythology. I like the diversity the album offers right from the start with 'Ka Mai'´s dreamy piano intro which is followed by powerful and playful prog passages which continues in the same vein on 'Gordius'. A more dreamy meditative soundscape can be found in 'Alia' build on a foundation of drums, light electronics, cello, bells and chimes. Quotations from Dune: the Bene Gesserit – Dune Month and the Dune TV series, vocal parts are from Storms by Hannah da masta. This is one of my favourite songs on this album together with the closing track 'Pawn of Fate'.
One of the more cinematic songs on this album is without a doubt 'The Dragon's Tail' complete with kung-fu "uh-ahhhs" and quotations from Beowulf by Benjamin Bagby, the Polyglot Lord's Prayer in 8 ancient languages by ArmorSapientiae and Dragonborn by Jeremy Soule. We get a small dose of the 70/80's electronic sounds in 'Minotaur' while 'Kaia' leans towards the fluid and calming world music. All vocal parts on 'Kaia' are from the song 'Kaiababies' by the vocal group Kaia and is originally a traditional Finnish children's song (spotify).
The album is filled with quotes and samples from various movies, the 'Last Man's' quotations are from the movies The Last Man on Earth and The Omega Man, based on the novel I am legend by Richard Matheson (one of my all time favourite books btw). One song that hasn't any samples on it is however Ishvara which actually was made on demand to an Indian dance group and therefor draws inspiration from indian culture.
As mentioned before the closing track 'Pawn of Fate' closes the circle with a look back at the first track – 'Ka Mai', which also means pawn of fate. A fitting end to a diverse album, greatly recommended to any progressive rock fan.
The band's music is influenced by bands like Tool, Faith No More, Mastodon, Crippled Black Phoenix, Ulver, Special Providence, Oceansize, Jaga Jazzist, Shpongle, Orbital, Ott, Plaid, Future Sound Of London and various film score composers (like Ennio Morricone, Jeremy Soule).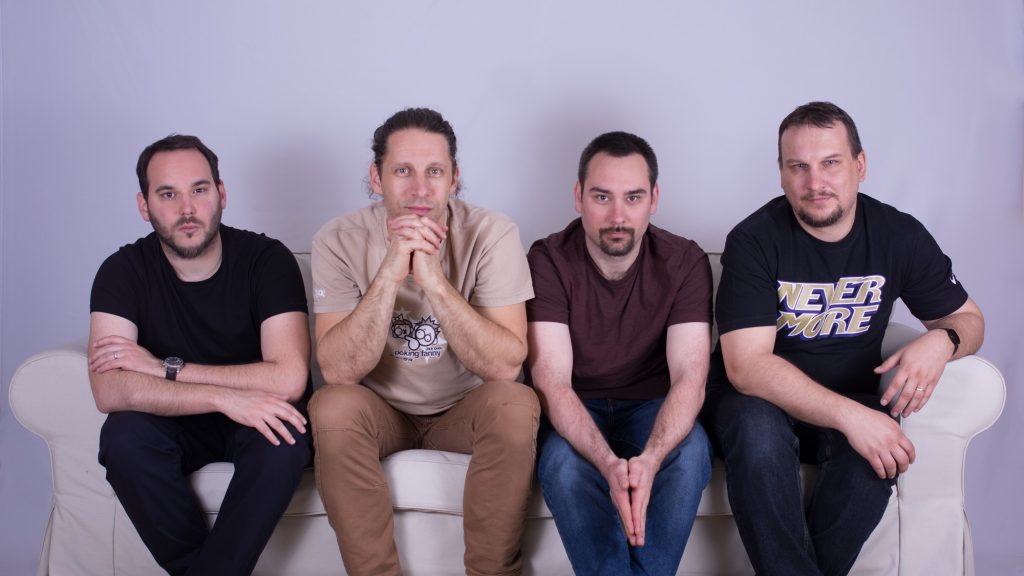 Ghost Toast is located in Debrecen, Hungary and was formed in 2008. The line-up of the band is as follows: Bence Rózsavölgyi (guitar), László Papp (drums), János Pusker (cello, keyboard), János Stefán (bass, sound fx, samples).
Cover art by Gergely Madarász
Discography:
Toast in the shell (self-released in February 28, 2011)
There is no en… (self-released in November 22, 2013)
Gordius -Single (May 12, 2017) (Inverse Records)
Out of this World (June 7, 2017) (Inverse Records)
More Ghost Toast here:
Website: http://www.ghosttoast.hu
Facebook: http://www.facebook.com/ghosttoastband
Spotify: https://open.spotify.com/artist/4daFMOWr7AcWldTIqZqhrR
Bandcamp: http://ghosttoastband.bandcamp.com
Soundcloud: http://soundcloud.com/ghosttoastband
Youtube: http://www.youtube.com/channel/UCDLXjxzvhQdpYlECCTF2hEA