Well in November I stated that 'soon' there would be reports posted from last years Roskilde Festival, and soon is now! 😀
Wednesday 4th of July, Camp Skambabserne Warm-up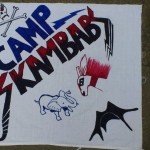 After stuffing the car to the brim with people, clothes, beverage and all other necessary things that are needed when going to a festival we headed towards Roskilde.
At the arrival the almost inhuman task of getting all of the stuff to the camp started. The other years I've attended we have been allowed to take the car to the camp, unload, and then park the car outside the camping area, but not this year! But oh well we managed to get all of the stuff to our camp without breaking our backs.
After getting our stuff in place, we went and got our wristbands and took a little walk and then me and my sister-in-law headed back to camp to drink 'some' Cranberry Mojito's before bedtime!
Thursday 5th of July, Day 1
First act we went to see was Django Django from the UK. A good concert to kick off the festival music-wise: good energy and happy, fun, music. Some reports of the concert says the sound was bad, but from where we stood (just outside the Pavilion tent) the sound sounded pretty decent.
I haven't been able to find any live footage from this concert, but take a look at their video for 'Default' and get the groove on!
* * *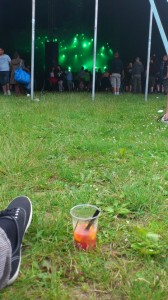 Well next on the program was Today Is The Day, from the US, on the Odeon Stage. That was an utter disappointment! Prior to the festival this was one of the bands I thought would be really interesting to see/hear. But I don't know what happened, it just sounded weird on the Odeon stage… It really didn't work for me!
But nevertheless I think you should give them a try, as they play a really interesting type of experimental metal.
And to top it off, the drink we bought, for a lot of money, just tasted like shit too (some organic drink), it was the lowest moment of the entire festival.
And again, no live footage from the festival has been found (and maybe that is a good thing), but here's a video from their 2002 release Sadness Will Prevail:

* * *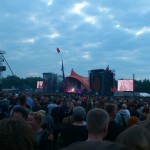 Well the day ended a bit better, but not perfect I'm afraid. The day's highlight was The Cure, from the UK, on the Orange stage. Sadly my The Cure days are almost over and the concert became a bit dull.
But watching the footage posted below reminds me that The Cure still stirs up emotions and memories from my teen years…

Coming up in a very near future (I hope): the rest of the festival days…
Stay tuned!