Sadhaka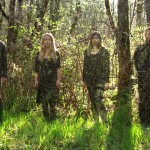 Sadhaka delivers some Atmospheric Black Metal with some raw but still delicate melodies. Terma will offer you so much to listen to, from the very first crude haunting razor sharp sound of the opening track, 'Dissolution', and the buildup that just breathes anticipation of great things to come.
There are many surprising passages in 'Impermanence' for an example. It steps out of the given path already set, giving the song a new dimension. The drums are massive in some parts while the guitars are just audible as a fine melody buried in the dark thunder of the blasting drums, but then the drums calms down giving way for the guitars and the screaming raw vocal.
I just love this 4-track album! Yes, 4 tracks, clocking in at about 55 minutes!
Sadhaka features members of metal ritualists Fauna, dark folk band Vradiazei and Møllehøj and they play Cascadian blackened metal.
I had to look up what Cascadian Black metal was all about, and found it is Atmospheric NeoFolk-ish Black Metal genre, that draws inspiration from Nature and the Environment in their lyrics, and that it is mainly coming out of a bio-region of the Pacific Northwest. Wolves In The Throne Room, Skagos and Alda are all tagged under this sub-genre of Black Metal.
Sadhaka's music are inspired the wildness of Cascadia and the mystical tradition of the Vajrayana.
I'll sign off with some lines from the final song 'Ancient Ones' – an offering to trapped ghosts in this word:
May this song be a banquet that you wander to
So you may be released
And find a place to sleep
I lay down this offering gift to you
More Sadhaka here:
Facebook: https://www.facebook.com/SadhakaBlackMetal
Bandcamp: http://sadhaka108.bandcamp.com/
Bandcamp (Pest Productions – Digital and Limited Edition Digisleeve CD): http://pestproductions.bandcamp.com/album/terma