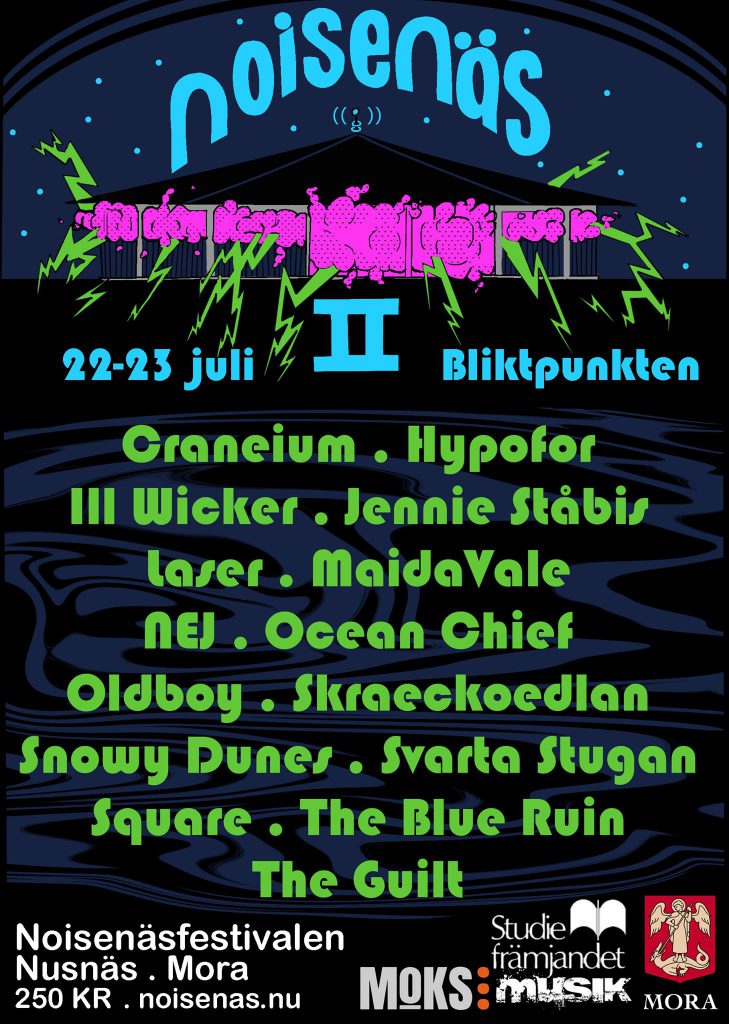 Update as of July 11th 2016: Added the poster and the remaining bands!
Update 2 as of July 22th 2016: Added the two last acts added to the festival and the schedule for the weekend!
Tickets for me and my son was purchased back in Mars to this years NoiseNäs Festival in Nusnäs, Dalarna, Sweden.
These bands have already been announced and I will add the remaining acts as they are announced up until the festival. (All bands have now been added)
BUY YOUR TICKET NOW: http://www.crowdculture.se/se/projects/noisenas-ii

The festival small and funded though crowdfunding, so go get your ticket before the 1st of July or the festival might not happen!
Read more about the crowfunding here:http://noisenas.nu/tickets.html (Edit: the festival is fully financed and is going to happen in less than 2 weeks!)
FREDAG 22 JULI
Vind
17.00 – Vind (Alt-rock)

Gröten
18.00 – Gröten (folk-progg)

The Blue Ruin
19.30 – The Blue Ruin (alternative voodoo-rock)

Oldboy
20.15 – Oldboy (one man orchestra playing pop)

Snowy Dunes
21.00 – Snowy Dunes (psychedelich blues rock)

Nej
21.45 – NEJ (dark and intense post-punk with 2xbass, drums and singing in Finnish )

Square
22.45 – SQUARE (put on your dancing shoes)

SQUARE – Warm Machine Full of Burning Love from SQUARE on Vimeo.
Hypofor
23.45 – Hypofor (an electronic experience)
Ocean Chief
00.30 – OCEAN CHIEF (doom metal)

LÖRDAG 23 JULI
Hypofor
17.00 – Hypofor (an electronic experience)

Craneium
18.15 – Craneium (fuzz from Finland)

Laser
19.30 – LASER musik (visitors from space with a lot of synth)

 Jennie Ståbis
20.30 – Jennie Ståbis (captivating beautiful melodies on guitar, song and cello)

Ill Wicker
21.15 – Ill Wicker (magical folk progg)

The Guilt
22.00 – The Guilt (explosive lazerpunk duo)

MaidaVale
22.45 – MaidaVale (psychedelic and blues inspired rock)

…and another taste of MaidaVale (live): https://www.youtube.com/watch?v=xlLHi9mQMeI
Svarta Stugan
23.45 – Svarta Stugan (feels like Twin Peaks)

Skraeckoedlan
00.30 – Skraeckoedlan (Heavy stoner rock from Norrköping)

Facebook event with the schedule: https://www.facebook.com/events/614514188698485/