Sunday 8th of July, day 4
Sunday started out slow and mellow, with some of us just hanging in the sun outside Gringo bar, eating Nachos and reading in the free Gaffa music magazine. Meanwhile Causa Sui El Paraiso Ensemble were jamming on the nearby Pavilion stage. Must say this was very cosy and relaxing and was the most perfect warm-up for what was coming up later that day.
* * *
Actually my memory is a little blurred, and I can't remember what I did for most of the afternoon. But I do remember walking past the Orange Stage while Magtens Korridorer was playing, but I didn't see this concert. (After talking to my brother and sister-in-law, we must have been going on the Sunday shopping spree around the festival area. And as I hate to shop, this might explain why I have forgotten haha)
I did however see BEHEMOTH! After I did the first recording, which is posted below (sorry for the unsteady shoot – I was headbanging slightly while recording), I moved up front to my brother and my sister-in-law and saw the concert from the first row.


* * *
After the incredibly good set by Behemoth, it was time to move to the Orange stage and hear some Machine Head. But suddenly the two genres of metal collided horribly and Machine Head just became dull and boring after the brutal, fast and extreme set I just came from (and still was vibrating in my skull and bones)… So I didn't stay long and moved on to the Odeon stage where another outburst of energy was waiting…

(My own pass-by video shoot)

Great shot, with some nice words from Rob Flynn in the beginning!
* * *
Nasum was one of my must sees, mostly because it was their 20th anniversary and their Farewell Tour…
They gave it all on stage, with Keijo Niinimaa (Rotten Sound) taking the place behind the microphone in the absence of their late singer Mieszko Talarczyk who died in the tsunami catastrophe in 2004.
Below is Nasum's own Youtube-playlist, containing my shot too. The one with the worst sound, as I was standing just besides the speakers, front row, while recording hehe …
* * *
After Nasum, I had a little breather before the last concert, for my part at least, at last years Roskilde Festival, and what a concert!!!
THE best and most memorable one of all concerts I've seen on Roskilde (Teddybears STHLM coming in close on a second place)
I'm not a big fan of deathcore, or metalcore for that matter either, but Suicide Silence has made some songs that I really enjoy, and I do not regret going to see them!
Headed by the now diseased Mitch Lucker, they offered the craziest party in the Pavilion tent. Blood and sweat ran during this concert as the crowd went crazy! Crowd security had a hell of a time with the circle pits and the crowd surfing, the blood and the heads that was bruised and battered, but the concert was unbelievable good!

My own recording… again poor sound as I was front row again 😉

Good recording and good sound 🙂
After that grand finale, it was time to head home to camp and get one last sleep in the camper before heading home the next day. I did hear and see Björk in the distance, closing of the Orange stage while heading out from the festival area. But after that insane deathcore discharge, some strange, eccentric, Icelandic stage persona didn't appeal to me at all….
Well that's it… Only a few days left until Roskilde Festival 2013 begins and I'll get new experiences to write about…
Some photos from last year:
Show All
Roskilde Festival 2012 – Day 4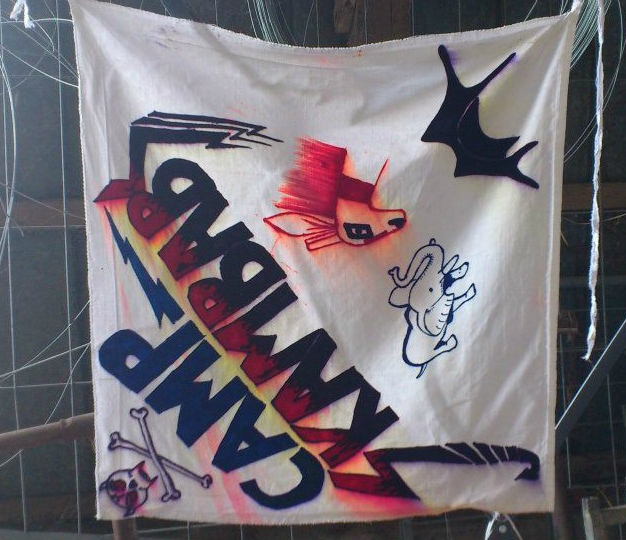 Your camp flag after the festival. The permanent markers, wasn't that permanent! 🙂