I have NO idea what I listened to in week 13, but I got my fundraiser package from my good friend Mihai, guitarist of the band Dirty Shirt that week, so I will make an exception and write a little about his band and their extremely good new album Freak Show.
Dirty Shirt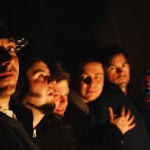 It is no secret that I have liked them ever since I discovered them through the now defunc SignMeTooRoadrunnerRecords site. I would say that is was love at first 'sight', it took me 21 seconds of listening to their song 'Manifest' and I was sold. I'm not gonna say more about these older songs now, as I will save it for another post under another category.
So what makes Dirty Shirt and their new album Freak Show great? Well it is the totally crazy mix of genres and languages, the crazy good quality and high standard in each track that makes it great. You can tell they had fun making these tracks.
You will get heavy gypsy punk, mixed with an industrial feeling, some heavy bass lines, fun lyrics in English and Romanian, traditional Romanian folk music influences and total craziness that surely will get you in a good mood!
Of course I shouldn't talk badly about my friends music, BUT… there is one track on this album I have my doubts about, and that is 'Never Say Never' it doesn't really fit the overall feel of the album, and has a key part I really don't like, it became too retro for my likings. Luckily the rest of the album outweighs this minor 'flaw' above and beyond.
To pick any favourite tracks are hard, but to mention some it would be 'Ride', 'Bad Apples' and 'Saraca Inima Me'.
…And then there is the hilarious Gypsy-Punk version of Daniel Bedingfield's 'Rocks Off' with the addition of an accordion, a fiddle, some umba-umba and a free party-mood attached…
Go buy it and make me and yourself happy!!! 😀 ♥ \m/
Here's the video of their title track:

More Dirty Shirt here:
Website: http://www.dirty-shirt.com
Facebook: https://www.facebook.com/dirtyshirtoriginal
Bandcamp: http://dirtyshirt.bandcamp.com/
YouTube: https://www.youtube.com/user/dirtyshirtoriginal/