I wasn't sure if I was going to do a year end list for 2018 or not, but decided that IF I felt like it I would do it for my own joy and entertainment and not just because I had done so the past years.
I'm recovering from stress related exhaustion disorder (or a complete burnout of body and mind to put it in plain english) at the moment and I'm not fully ok yet, but I'm slowly getting there, hence I do things in my own pace and on my own terms.
So before my brain gets too tired lets go!
I haven't ranked the records, these are presented as they where released during the year and are the 15 albums that took me by surprise, moved me or in other ways just made my bleak 2018 a little brighter!
Blackwulf – Sinister Sides
Blackwulf's – Sinister Sides was a no brainer this year and was the first release I archived under my "Best of 2018?"-list. Heavy doom-ridden heavy rock with a great 70's atmosphere and riffs that will make your head bang!
Released February 23, 2018 by Ripple Music
JIRM – Surge Ex Monumentis
JIRM's album Surge Ex Monumentis was the second release to be added to my AOTY-list. Though the first two tracks on the album didn't really speak to me at first, the rest of the album did! After some listens even the two first one tracks grew on me. Together with Karl Apelmo's amazing vocal the fenomenal tracks 'Isle of Solitude', 'The Cultist', 'Nature of the damned' and 'Tomb Arise' this album couldn't be forgotten. Fine classic heavy psych metal/rock with vast horizons from Sweden.
Released March 16, 2018 by Small Stone Recordings
Hinayana – Order Divine
Hinayana's Order Divine became my last review for Metal Bandcamp before I had to quit writing reviews due to my tired brain. But as mentioned in the review I love Hinayana and I love the album! Quality melodic death metal with a dash of doom from Texas.

Released March 19, 2018 by Hinayana
Talbot – Magnetism
Talbot's Magnetism entered my life with an explosion one early morning back in March, got an email that said a new album had been released on Bandcamp from the duo of doom, heard half of the first song 'Feral' and the album was bought! Its crushingly heavy, different, fresh and experimental doom/sludge from Estonia!
Released March 27, 2018 by Talbot
Besvärjelsen – Vallmo (AOTY!)
Another album that was released on the same day, 27th of March, was Besvärjelsen's extremely good Vallmo! It took me by storm and has been the album I've listened to the most this year in between my long periods of total silence. The songs 'Röda Rummet', 'Öken', 'Under En Svart Himmel', 'I Skuggan Av Ditt Mörke' and 'Alone' made this the album of the year for me! Warm and fuzzy stoner doom with dreamy sounds of the 70's from Sweden.
Released March 27, 2018 by Suicide Records
Eishan Ensemble – Nim Dong
A very odd album amongst the rest of my AOTY albums is this little gem of a perfect fusion between eastern music and jazz, the brainchild of Iranian Tar player Hamed Sadeghi. A strange album I give you that, but I've kept coming back to it so there must be something I like about it! (And I don't particularly like jazz)
Released June 28, 2018 by Art As Catharsis
Rostres – Les Corps Flottants
The next album that caught my attention was Rostres' dark and powerful Les Corps Flottants. Dark atmospheric post-rock/shoe-gaze from France right up my alley and perfect for my state of mind!
Released June 29, 2018 by Slow Burn Records
Decline Of The I – Escape
I can't recall how I first heard of Decline Of The I's gutt wrenching and hauntingly good Escape but I'm glad I did and had the opportunity to get a powerful and immensely satisfying experience from the fenomenal track 'Enslaved by existence'! This is post/avant-garde/experimental black metal from France with a wide range of musical influences, varying from electronic and industrial to orchestral elements, which the band describes as troubled black metal. The samples added, the choir and soft female vocal you find on different tracks, lift and enhance the music.
Released July 27, 2018 by Agonia Records
Nachash – Phantasmal Triunity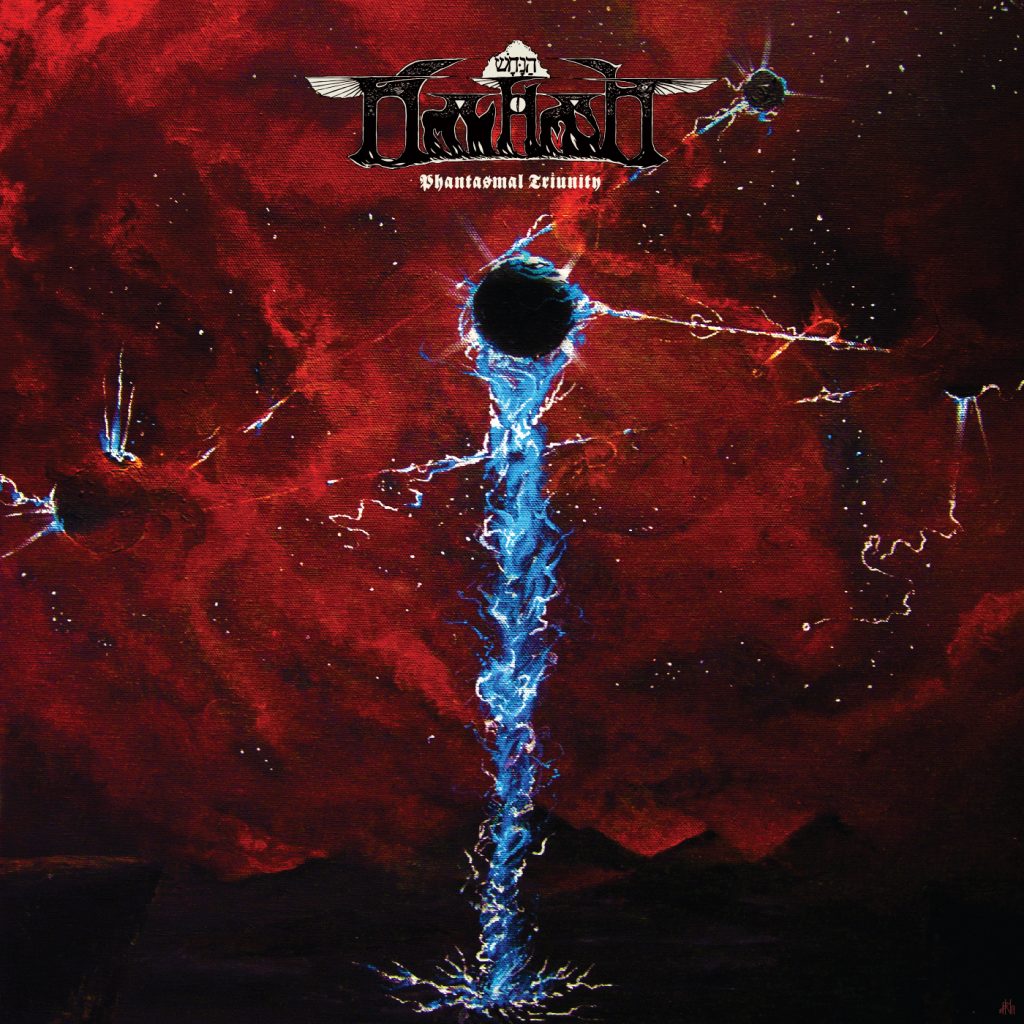 It was a promo to my inbox that made me aware of this Norwegian band: Nachash and their album Phantasmal Triunity. It caught my immediate attention with its blackened death metal or black metal with a deathly groove whatever you like to call it. I however liked it a lot!
Released August 10, 2018 by Shadow Kingdom

Ghost World – Spin
This album came as a fresh breeze and stayed with me for a long time. It's something completely different but still so gripping with the whimsical, mysterious and lovely vocal by the groups singer-songwriter Liisa Tani! I like the fluent and light atmosphere of the alternative rock/pop/psychedelica that both belongs in past times and in the now!
And if you only want to listen to one track of this little gem of an album, listen to 'Gutter of Hearts' or 'Coming Over'!
Released August 31, 2018 by Svart Records
Superfjord – All Will Be Golden
Another album that stood out for being different! I don't know exactly how to label Superfjord's – All Will Be Golden, but experimental cosmic psychedelic rock from Finland comes pretty close!
Released September 21, 2018 by Svart Records
Dödsrit – Spirit Crusher
Oh Dödsrit my muse! Thanks for releasing another album with a hard hitting fierce atmosphere that stays with you. Atmospheric and grandiose blackened crust from Borlänge, Sweden.
Released September 28, 2018 by Prosthetic Records
Sundrifter – Visitations
Sundrifter crushed through my speakers with the opener 'Sons of Belial' followed by the, can't find a word for it… orgasmic comes close… 'Death March' which has the same out of this world overdrive of riffs only matched by Truckfighters' – 'Dessert Cruiser' and that was that! Hard-hitting fuzzy heavy doom rock from Boston. Well what could go wrong? Nothing!
Released October 19, 2018 by Small Stone Recordings
Craneium – The Narrow Line
Great stoner rock from Finland that can be heard again and again. I like the smoothing mellow pace and fluid flow of the songs.
Released November 23, 2018 by Ripple Music
Vanishing Kids – Heavy Dreamer
This is a total crusher of an album! Had it been released earlier during this year it might have shared the throne with Besvärjelsen's – Vallmo. Psychedelic stoner rock from the 70's with dark doomy undercurrents and an organ that lifts the tracks to something exceptional. Nikki Drohomyreky vocal is dreamy and mysterious and all together Vanishing Kids sounds as a group that could have played The Roadhouse in Twin Peaks any night of the week.

Released November 30, 2018 by Svart Records