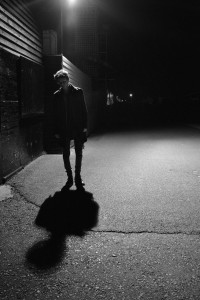 16-year old multi-instrumentalist Spencer Bassett from Hastings contacted me and asked if I would take a listen to his newly released EP. I wasn't expecting much, I mean, what can a 16-year old solo-artist, who not only composed and played all the instruments, but also produced, mixed and mastered all of the music accomplice? Apparently a great deal! There are small hick-ups here and there; some tracks could perhaps need some tightening and smoother transitions, but it sounds great and the compositions are interesting to listen to.
The EP contains 4 instrumental tracks, which all has their different mood and sound. Sadly the running time of this EP is very short for an experimental post/math-rock creation and after each listen-through I feel like I would have liked some more.
"Valhalla" opens up with interesting guitar melodies and layers, the ending could perhaps have needed some more work as it felt a little abrupt and off. The same can be said about the last track on the EP; "Elusive Rain" it just comes to a full stop before it has been allowed to fully breathe out. I'm not a composer nor a musician, but I would recon it's not always easy to find the natural ending to a song. That said Spencer has done a good job on the mixing, the instruments has their clear layer and space. The Tracks feel light and you get a clear view into the instrumentation.
The more I've listened to this EP the more the tracks feels like unpolished diamonds, fragments of a wonderful dream that just needs to be polished to be able to fully shine. And I like it. There are some really interesting passages throughout the entire EP.
It is a recommended listen and I'm really looking forward to hear what this talented young man will come up with next. If he has done such a great job at 16, then there is no limit to what he can accomplice in the future.
So after getting to know the music of Flicker Rate I got curious and wanted to know more about the young man behind the music, so I wrote some questions for Spencer:
How long have you been playing and what instrument did you start out with?
I first started playing the guitar and I have been playing it for 4 years. Soon after I became confident with the guitar I started playing the bass and learned the basics of it like chord patterns and learned how to improvise.
After that I then started playing the Drums, I picked up the drums very quickly and I have had more of a focus on drums than any other instrument at the moment, mainly because I have always seen the drums as (if anything) my chosen instrument. I have been playing the drums for about a year and a half now.
Are you from a 'musical' family?
I come from a musical family, but only from my dad. My dad (John Bassett) he is also a multi instrumentalist and does many musical projects such as: Arcade Messiah which is a instrumental progressive metal solo project which is a very guitar driven project with many dark atmospheric melodies and tones which includes odd time signatures and hectic drum grooves that really gets you in the mood for instrumental metal.

From where du you draw your inspiration?
My dad is a very strong inspiration to me because when I was younger I was always surrounded by music and in a way it influenced me into liking metal and rock genres, I always look up to my dad because of his musical talent and skill that he has in making music but also in the production of how it sounds.
Obviously there are many other musicians that are a inspiration to me to such as Cloudkicker He is also a multi instrumentalist who produces Progressive Metal and sometimes mellow rock, but his unique sound always drew me into his music and really stood out to me compared to any other musician out there.

What's next? Are you working with new music and/or is this EP- a work in progress?
At the moment I'm working on my second EP which will be possibly a bit longer than my Debut but it will also include a more variation of songs from post rock to progressive metal to math rock.
The production will also be a lot better than my Debut release as well.
I possibly might be doing some guest appearances on other peoples music projects this year as well.
Do you do anything else in your free time, besides playing a ton of instruments, making and recording music?
When it comes to other things education is quite a strong point because I'm still in school studying, so music is mainly my hobby and what I do in my free time, but I also do a lot of gaming too (Game of choice at the moment: Metal Gear Solid V – The Phantom Pain).
I also asked how the music scene was like in Hastings, but from the answer I got from Spencer, he and his dad is pretty much it!
For more information about Flicker Rate check out the links below:
More Flicker Rate here:
Bandcamp: https://flickerrate.bandcamp.com/
Facebook: https://www.facebook.com/flickerrate/
Twitter: https://twitter.com/flickerrate/
Instagram: https://www.instagram.com/flickerrate/