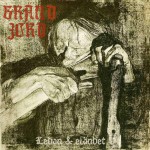 Ledan & eländet (ennui & misery) by Swedish band Bränd Jord (scorched earth) is a very intense and interesting album. The variety of melodies and styles you'll find cramped into the 12 tracks is impressive and makes the album memorable. You'll hear angsty vocals with bleak lyrics accompanied by a highly energetic, raw and melodic mixture of Black Metal and a hardcore-punk-ish attitude and a whole lot of progressive touches.
Read full double review here: http://metalbandcamp.com/2014/12/brand-jord-ledan-elandet-forstarkta-defekter.html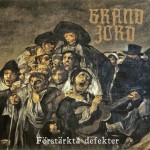 The 27th of November they released the EP Förstärkta defekter (reinforced defects) containing 4 tracks, which are all just as interesting and varied as the above mentioned tracks and just as highly recommended! I simple love the skewed desperate chaotic structure of "Återvändsgränd" (dead end) and I find myself grinning with joy like a lunatic. This is what makes me happy and drives me to continue exploring the endless universe of music.
Read full double review here: http://metalbandcamp.com/2014/12/brand-jord-ledan-elandet-forstarkta-defekter.html