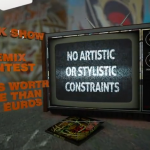 Dirty Shirt from Romania has a remix competition running at the moment with some really great prizes, so if you have some musical skills, I think you should sign up and try your luck.
Full details of the competition here: http://www.metalhead.ro/FreakShowContest/index.html
The deadline is Sunday 7 April 2013!
Entries have already started to come in and you can hear them here in this nice YouTube-playlist. I've got some favourites already and it will be a hard decision for the band to pick a winner. Go listen yourself and pick your favourites. If you would like to hear Dirty Shirt's new brilliant album Freak Show go here for streaming:  http://dirtyshirt.bandcamp.com/album/freak-show-2 and buy it if you like it!!!
More Dirty Shirt here:
Website: http://www.dirty-shirt.com
Facebook: https://www.facebook.com/dirtyshirtoriginal
BandCamp: http://dirtyshirt.bandcamp.com/
YouTube: https://www.youtube.com/user/dirtyshirtoriginal/