Another week came and went, but I'm still going to look back at week 6's interesting music discoveries before I can tell you about this weeks discoveries (week 7). I have been busy and I feel that I might have trouble discovering anything new the upcoming weeks, but I have many old discoveries that could use some well deserved recognition, so I might just dig in my treasure chest and find some gems in it to write about here.
Well well on with the show…
Wiht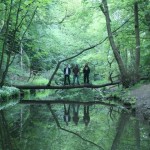 Wiht is a young talented 3-piece from the UK, that plays some really nice doom-ridden psychedelic stoner rock, with fuzzy ringing guitars, slow dragging bass and lazy drums mixed with some nice riffs that will send you out into space. This is music for lazy Sunday mornings or relaxed, sexy evenings hehe. I got hooked by their sophomore release The Harrowing Of The North from 2011, but also their first self titled release from 2009 is really good. Both are worth your time if you like this genre.
The self titled album Wiht from 2009 contains 3 tracks that spans from 9-16 minutes. My favourite track might be 'Into Ruin' as it starts of in a happy mood, but transgenes into a more melancholic, foreboding mood. The track is dragged out but it never feels boring, as you get into the rhythm and mood of the song and gets carried away on a musical journey. Really nice drumming going on in this one! The guitar repeats itself over and over: sad, depressing, angry, hopeful, lightly, forceful, tentative, determined. The bass adds to it and I love how the two instruments supports and enhance each other.
The next track 'and the thunder rolls' also starts out in fierce Stoner Rock tempo, but then drifts over into slow doom-ish melancholy. Be prepared to just drift away, carried by the bass's hypnotizing rhythm.
The third and final track 'Vasta' just hurls you out into space!
Well I'm not gonna say more about this album, but move on to The Harrowing Of The North.
Quote from their BandCamp site:
Taking influence thematically from the subjugation of the North of England by William the Conqueror in the 11th century, The Harrowing of the North tells the troubled history of doomsday-era Yorkshire- the king massacred it's people and destroyed the land to ensure it held no economic or cultural worth and would remain under his subservient rule.
This album hold 2 tracks, but clocks in on a little over 30 minutes. So just sit back and enjoy the title track 'The Harrowing Of The North' a 20 minutes long musical journey. When the track really blooms out around 03:40, after the long great build-up, the hairs on my arms raises! And if that isn't enough the track just evolves and changes it's form and mood over and over again, this is a great composition and the talent behind this is just great, go listen now! The second and final track 'Orderic Vitalis' starts out so groovy and bass-driven that I just gets silly-happy, and when it slows down… well… yeah… I crank the volume up a little more and let the vibrations of the bass and drums take me away!
There is no excuse for not getting this album, as they offer it as a pay-what-you-want album on Bandcamp, in other words for free if you like!
More Wiht here:
Facebook: https://www.facebook.com/wihtleeds
Bandcamp: http://wihtleeds.bandcamp.com/
* * *
Steak Number Eight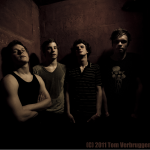 This is a band I got recommended, actually it was their video for their track 'Dickhead' that got posted in a FB-group I'm in, that got me curious about them. What caught my attention was their skewed guitars in this track and I wanted more…
So I started out with their first release from 2008 When The Candle Dies Out, and just fell totally in love with the first track 'When The Sea Dies' and when I found out that the guys are born in 1992-1993, I was really in awe, they released this album while they where 15-16 years old! This is really young guys with extremely good songwriting capabilities and the knowledge to make interesting music!
The follow up Album from 2011 All Is Chaos is just an amazingly good album, and I understand the success they already has gained in their own home country of Belgium!
From what I've heard, their new album The Hutch due out in March 2013, will be a killer! I can't wait to hear it!
Well how would I describe the music? Well it is post-rock/metal, progg-ish, atmospheric, psychedelic, fuzzy hard rock and just damned great! Think Kylesa, Les Discrets and sleepmakeswaves mixed together with a vocal full of attitude and nerve, if that is even possible!
Band photo (C) Tom Verbruggen – Genthology
More Steak Number Eight here:
Website:www.steaknumbereight.com/
SoundCloud: https://soundcloud.com/steaknumbereight
Facebook: https://www.facebook.com/steaknumber8
YouTube: https://www.youtube.com/user/SteakNumberEight