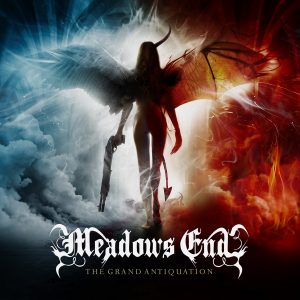 Today Meadows End are releasing their 4th album The Grand Antiquation, via Black Lion Records. The album is a continuation of the bands journey with their take on grandiose melodic death metal with majestic symphonies and groovy melodies.
As mentioned above the album is classic Meadows End with great vocals and epic symphonic melodies, so if you like them as I do, you will not be disappointed. You will also hear a guest solo from Tommy 'ReinXeed' Johansson (Sabaton) on the opening track "Devilution".
Meadows End from Örnsköldsvik was formed in 1997 by a group of childhood friends. Due to Lineup changes and the other 'unavoidable obstacles' it would take 13 years before their debut full length Ode to Quietus was released in 2010 and it got me hooked! Especially with the closing song "Falling Asleep", so I've been keeping an ear out for the guys ever since.
They have since released:
Devilspeed Loathekill – EP (2013)
The Sufferwell (2014)
Sojourn (2016)
In 2018 they re-issued new versions of The Sufferwell and Sojourn with re-arranged and re-written lyrics via Black Lion Records.


The currently line-up contains of Daniel Tiger – Drums, Mats Helli – bass, Johan "The Brute" Brandberg – Vocals, Jan "JD" Mehle – Guitar and Robin Mattsson – Keyboard/Orchestration
More Meadows End here:
https://meadowsendblacklion.bandcamp.com/
https://meadowsend.org
https://www.facebook.com/meadowsend
https://twitter.com/meadows_end
https://open.spotify.com/meadows_end/