So it is that time of the year again: Looking back at a year full of music. Some releases was OK, some was good, some were even better and then there are the few that landed a spot on my albums of the year list!
I have a feeling that I wrote even less reviews this year than last year, but there has not been enough time and the inspiration hasn't always been present when I had the time. But next year… I promise it will be exactly the same!
Anyway the few live events I attended this years was: Solstafir, one of the best concerts I've been to! The whole family went to Storsjöyran where there was music for everyone's specific taste and I took my son to the local festival Noisenäsfestivalen to see Skraeckoedlan amongst others.
Next year I'm going to Monsters Of Rock in Stockholm and will hopefully see Black Sabbath one last time. We'll probably go to Storsjöyran again, but nothing is decided yet. The Roskilde Festival is slipping further and further away now and I have real doubts that I will ever go there again. It is kinda cozy to attend a festival with the entire family like Storsjöyran and support the local initiatives such as Noisenäsfestivalen.
But now over the the important stuff! My top 10 of 2015! It is very diverse and might hold some surprises to some, but these albums are the ones that I have listened to the most during 2015. The number one album couldn't be any other than the one you see below.
1. Locrian – Infinite Dissolution
Metal, Experimental, Noise
When Infinite Dissolution came out it immediately pushed all other contenders to the side and there has not been another album this year that could really threaten it's number one position. Locrian stole my heart back in 2012 with their album The Clearing/The Final Epoch (Review here), but I simply couldn't get into their last release, Return To Annihilation from 2013, how hard I tried. So when Infinite Dissolution came out I didn't expect much, but damn!!! And here it is as my number one! (A full review can be found over at Metal Bandcamp)

Release date: 24th of July, Label: Relapse Records
2. Akhlys – The Dreaming I
Atmospheric Black Metal
This album is a nightmare transformed into music, a masterpiece!
"Breath and Levitatation" – just breathe, levitate and let go…

Like the title of the first track you are lured into a greater calm with its droning industrial ambiance which starts out this brilliant album. You will be lifted upwards on a rusty post-apocalyptic roller coaster that, when reaching its peak, will lose all bearings and fall uncontrollable down into a hall of mirrors reflecting kaleidoscopic nightmares, which are both pitch dark, nauseating, claustrophobic and sinister, but also holds a serene beauty, hypnotic aural landscapes and bleak atmospheres that only can be derived from the depths of the unknown.
– quoting my own review, which you can read in full here: http://metalbandcamp.com/2015/05/akhlys-the-dreaming-i.html

Release date: 20th of April 2015, Label: Debemur Morti Productions
3. Wovoka – Saros
Post-Sludge-Metal
I love this album from start to finish, it hurts to listen to it (in a good way). You might remember that Wovoka managed to land a spot on my top albums of 2014 list with only one track… This track has now gotten accompanied by 6 other tracks that equally matches 'Sleep Eater'.

Release date: 14th of April 2015, Label: –
4. Melechesh – Enki
Sumerian Thrashing Black Metal/ Mesopotamian Metal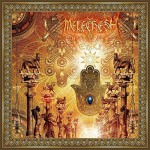 I have been a huge fan of Melechesh for a long time and Enki is maybe their best album to date, it is complete. Sumerian thrashing black metal with blasting fury, blazing melodies and wonderful desert winds engulfing each track.
Sadly they are not on Bandcamp so you'll have to look them up on Spotify or get a taste of the album by listening to the video below.

Release date: February 27th, 2015, Label: Nuclear Blast
5. Tau Cross – S/T
Industrial – Gothic – Punk Rock/Metal
What can I say, all sorts of genres mixed together with an old-school stomping pace and raw energy.

Release date: 19th of May (Bandcamp), Label: Relapse Records
6. The Exploding Eyes Orchestra – I
What genre is it? Experimental laid back jazzy-ish rock?!? Who cares! Press play and enjoy!
One of those albums you might find as a surprise on my top 10 of 2015, but this is really good and I've returned to it a lot since I first heard it. Great vocal.

Release date: 12th of June, Label: Svart Records
7. Dirty Shirt – Dirtylicious
Crazy-wild-inventive-fun-crossover-industrial-folk-metal-core
The hardest working/touring band in Romania found the time to record a new highly creative album, filled with folk music, hard hitting metal and total craziness. For those who are not yet familiar with Dirty Shirt, I think it is about time you take the time and check them out. This time around the folk-music elements are even more prominent than on their previous albums, they have become more focused in their madness, which makes this album more homogeneous in terms of style and pace. The production is crystal clear and to try and label their music is hard, but crazy-wild-inventive-fun-crossover-industrial-folk-metal-core is as close I get.
I just have to say that I love the dual vocals that makes Dirty Shirts music even more interesting as Dan "Rini" Crăciun has a VERY special kind of voice, which I LOVE!

Release date: 26th april 2015, Label: –
8. Monolord – Vänir
Doom, sludge, FUZZ!
No year end list without Monolord!
Release date: 28th of April, Label: –
9. Oblivious – Out of Wilderness
Groovy Stoner Rock'n'Roll
Ahoy! Land ahead! Yes this is my go to get-into-party-mode-shake-my-booty album of the year! Even I need something else than experimental depressive doom and gloom once in a while… yes it's true… 🙂

Release date: 20th of April 2015, Label: Gaphals
10. Midnight Odyssey – Shards Of Silver Fade
Cosmic Atmospheric Black Metal
Closing off this list with a grandiose release which will take you to far away galaxies and with almost 2,5 hours worth of music you might get lost in the process. Enjoy the trip!

Release date:  9th of June 2015, Label: I, Voidhanger Records
Special mentions!
No year end list without the special mentions!
My special mentions this year are albums that I discovered during 2015, and have been playing the crap out off ever since, but the albums were not released this year alas!
Rattenfänger
Death Doom
Brutal and extremely enjoyable death metal with doom vibes! The album was originally released back in 2012, but first appeared on Bandcamp this June and that's the way I was lucky enough to find it. It's been played a lot ever since. It is pretty much impossible not to groove along to this one!
Release date: 2012 (June 2015 on Bandcamp), Label: Dark Essence Records
Hinayana
Melodic Death/Doom
I was taken by surprise by this one, for a demo this is pretty neat!  Hinayana is a melodic death-doom band that sounds like it was coming out of a grey and cold Nordic landscape but it isn't! Hinayana resides in Austin, Texas with Casey Hurd as the main songwriter. This EP was released back in August 2014 and I would probably not have discovered it without the hard promotional work from Casey.
Release date: August 2014, Label: –
That is it!
Bye bye 2015!
Hello 2016!