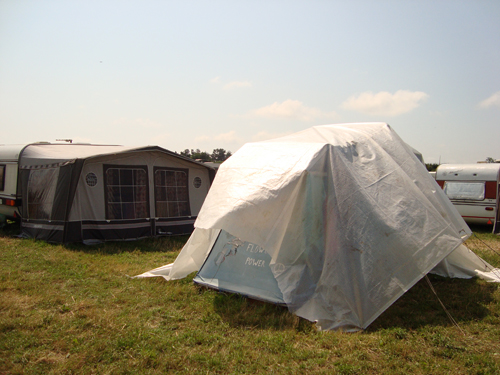 So this would be the last day with music.
We woke up in a sweat tent, the oxygen level was on a dangerously low level and the humidity and heat was almost unbearable. We had had to cover our old Combi-Camp with plastic as it wasn't waterproof.
Well the Combi-Camp wasn't waterproof mainly because:
A) It was OLD
B) Lack of water repellent
C) Big holes in the Canvas, patched up with GAFFA-tape, that didn't really stick to the canvas.
So we had to give it a rain-coat on which pretty much kept the rain out, but also all the fresh AIR!
As the ground now was pretty drenched from last night thunderstorm, I choose to wear rubber-boots, which I terribly regretted the entire day, but later I found out that it was THE most brilliant idea…more on this subject later 😉
The day turned out to be hot especially when I was wearing rubber-boots and three pairs of socks! The boots were too large and in order to prevent blisters caused by the friction I had to put on three pairs of socks, where one of the pairs was a home-knittet woolen one! It got hot, I can tell you that 😀
Tremor
The first act we went and saw was the different and extremely good Tremor. I think we all enjoyed the concert!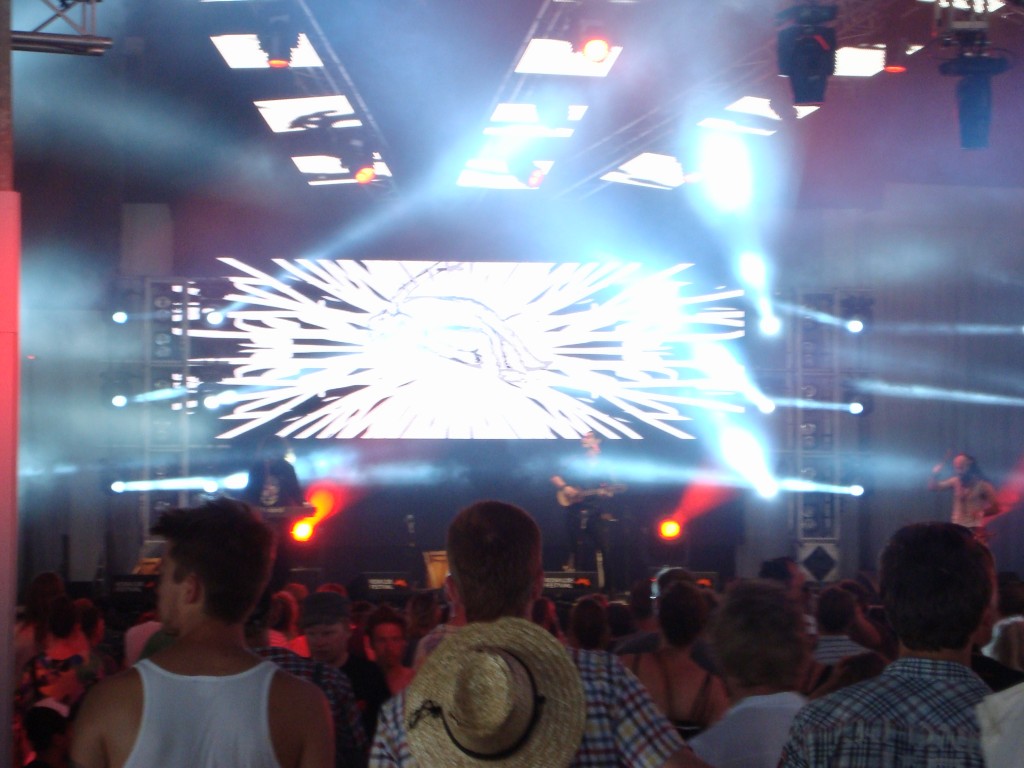 Bad Religion
I was actually aimed to see Afrocubism after Tremor, but kinda got stuck in front of the Orange Stage with my brother and listened to Bad Religion, It felt like a 100 degrees in my rubber boots, with the 3 pairs of socks, while I stood there in the sun enjoying the concert!
Well I just stayed in-front of the Orange Stage for the full concert and missed Afrocubism, oh well, I wasn't THAT keen on seeing them anyway, so it was OK.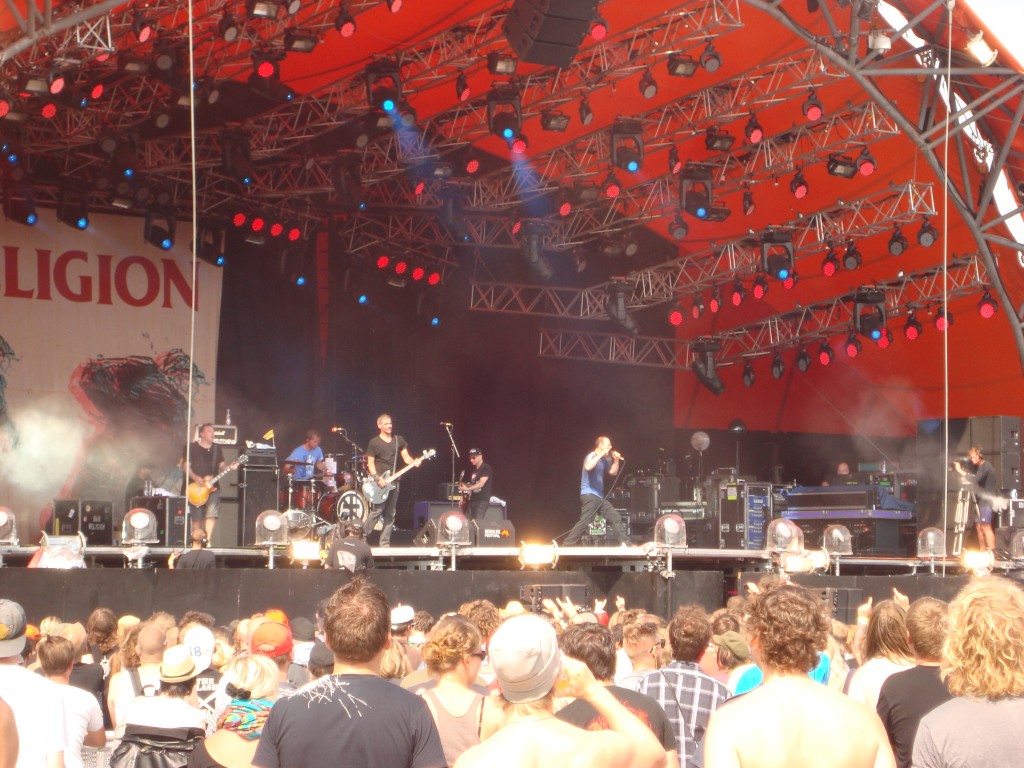 Then we must have gone and eaten our traditional last day dinner the whole Camp Skambabserne.
Anibal Velasquez Y Los Locos Del Swing
Talk about a change in genre! This was soooo good actually, and I think we all enjoyed this superstar from Colombia a lot 😉
No footage have been found from Roskilde I am afraid, you have to be contend with this instead.
Graveyard
Now we have arrived to the highlight of this years Roskilde Festival: GRAVEYARD! I was however alone in the experience as the rest of the camp was listening to L.O.C.(?!?!) on Orange Stage. Oh well their loss…
I haven't been able to find no good footage from the Roskilde Festival, but look at the official video to 'Hisingen Blues' here!
This was by far one of the best experiences I have had on Roskilde, well there have been a few the other years as well (I'll probably post something about the 2009 and the 2010 festival later on, we'll see)
I bought some merch after the concert, and I also bought two copies of the brilliant album 'Hisingen Blues'.
When I approached the others they could instantly see that I had had an experience out of the ordinary, as I had the biggest grin on my face and was half dancing with joy when I approached them, I gave one copy of the album to my brother, so that he could hear what he had missed! 🙂
Kings Of Leon
That was boring to say the least, I haven't been a fan of their music, but as they were closing the Festival we just had to see some of it. Just when we gave up and headed to our camp, they played the 'radio-hits' :S
During the concert I think me and my brothers fiancée went and bought 'breakfast' as we knew nothing would be open the next day. So we went and bought some cakes 😀
And for the return walk to camp we wanted something to drink, so we bought us some ciders. Nothing extraordinary about that, but…
It had been hot the whole day and the rubber-boots had been killing me, and I had thought about buying a pair of Roskilde branded Converse shoes, but it turned out they where sold our, so I just endured the heat the whole day. My Brothers fiancée however had big blisters on her feet and had to change footwear, so she bought a pair of flip-flops. The toilets near the Orange Stage besides the beer sales had clogged up during the evening and nice puddles of piss were accumulating. Needles to say that we totally forgot about the piss after we had bought our ciders and were ready to go home. It was at this time I praised myself lucky that I still had my rubber-boots on, but she didn't. :S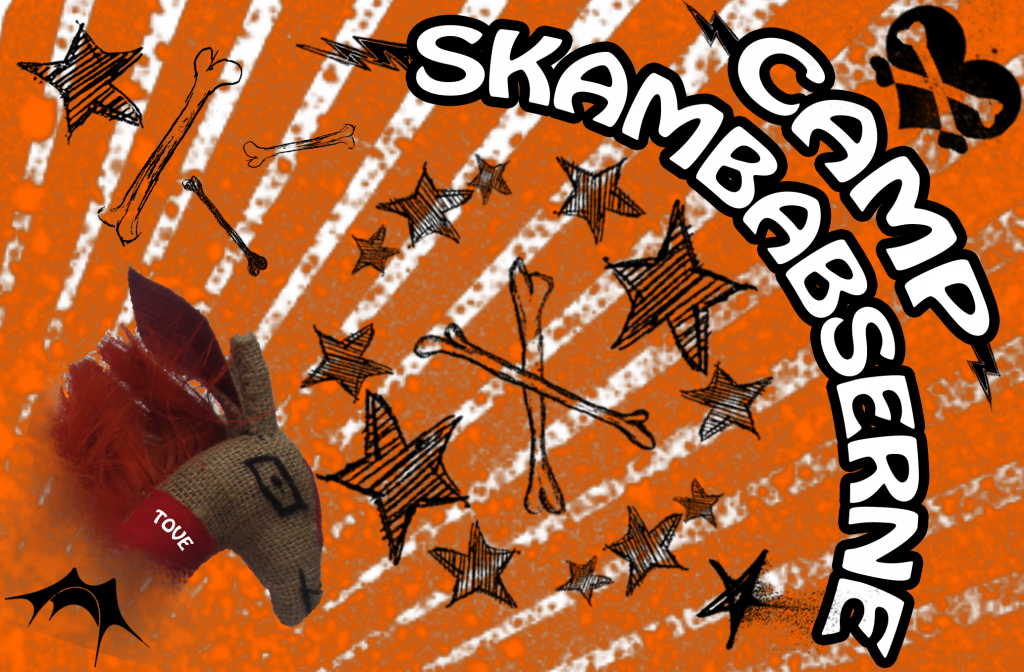 Oh well back to CAMP SKAMBABSERNE and the last night in the old Combi-Camp, that won't come with us anymore, it has had a long and happy life and will now go to the happy-camper-graveyard 🙂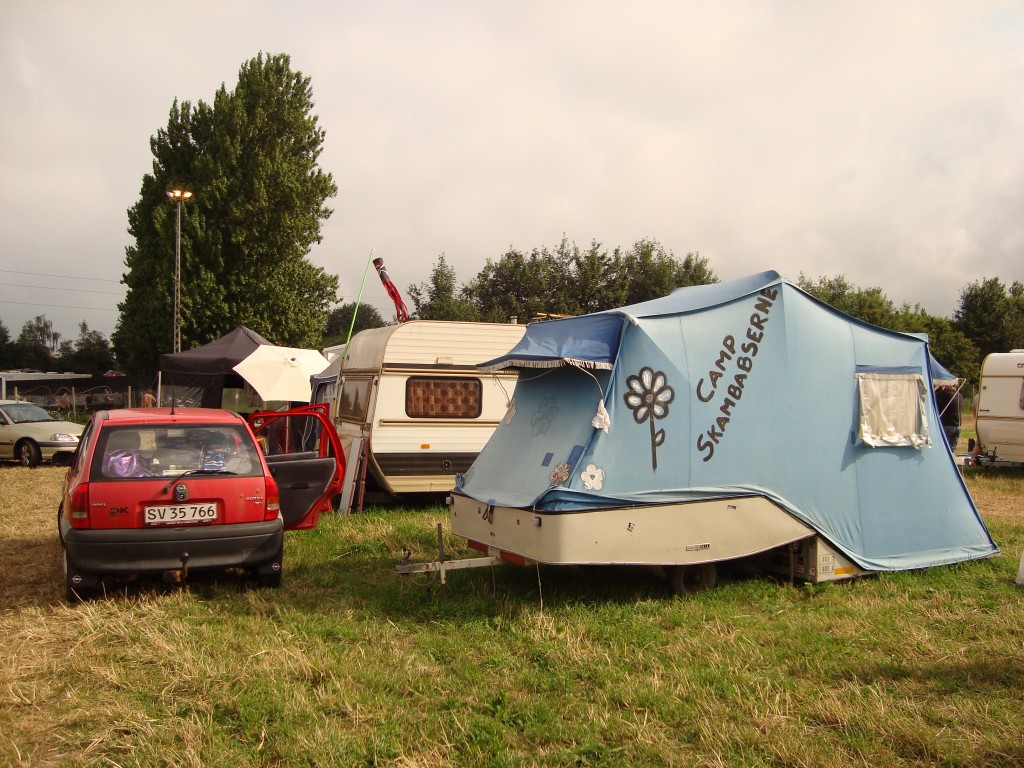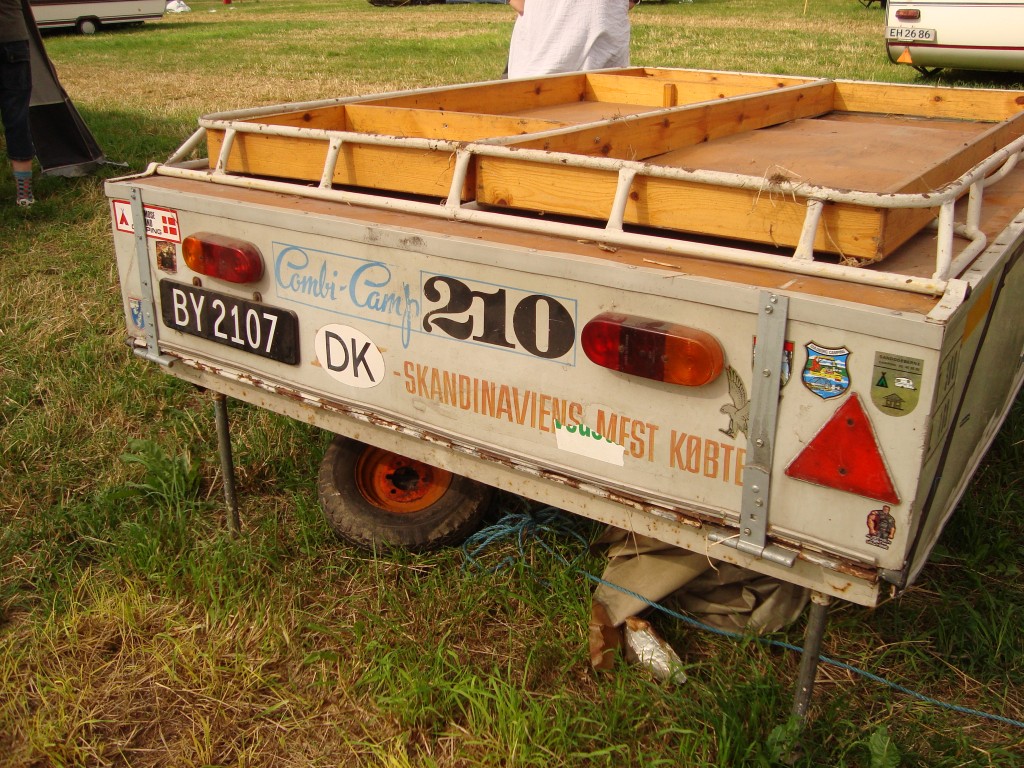 WE WON 4 TICKETS TO RF2012 AND 4 TIRES FROM GOODYEAR!
Oh yes! Every year we have a traditional trip into Roskilde city to buy stuff we need, and last year wasn't any different, but returning to the camp ground we encountered some people from Goodyear's Carpooling competition, and as we were carpooling by being 4 people in the same car, we were suddenly participants 🙂 And we won!!!
The pictures can be seen here 😉
And as a result of this we can now say goodbye to the non-waterresistent Combi-Camp and say hello to a better-used Caravan (Travel Trailer) from 1978. We used the money we would have used on tickets and bought better living facilities 🙂
I now have my own 'room' to sleep in, so I cannot wait until RF2012 (And Nasum and DevilDriver are already announced) 😀
\m/ >< m/