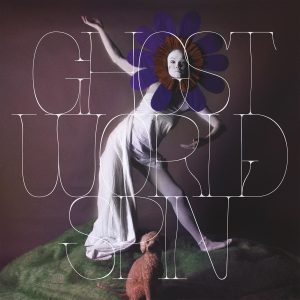 It is not easy to live with stress related exhaustion disorder I forget things!
Apparently I had downloaded some promo-material to listen to later to my phone. Today while cleaning out my phone I found some tracks without artist or album name amongst the unsorted tracks. When the first song broke the silence I just thought to myself: how could I have forgotten about this? After some investigation I was really happy to discover that is was the new album Spin from the Finnish band Ghost World  that will be out tomorrow via Svart Records
I had to take a quick listen to their first album, but sadly it's not quite the same and hence not for me, but this one is!
Liisa Tani's voice is dreamy and the album is one hell of a feel good trip! I love it, it is one of the best releases this year for me! It's music to feel sad to, music to be happy to, music to relax to, music to dance to, music to enjoy on a sunny or a rainy day. Psychedelic alternative rock with an amazing sound.
And I don't know why, but when the last track 'Leave No Trace' flows out of my speakers I want to listen to both Neil Young and Crazy Horse and Fleetwood Mac afterwards.
I know it's not very metal but give it a try anyway!
(As soon as there is a link to the album I'll post it here!)