An Interview with Andrew James Liles. Mastermind behind Bad Android, Welcome Home and Information Harvest
First of I want to thank Andrew for answering my questions, I didn't expect the lengthy response that I got, but I really appreciate it and I really enjoyed reading about his past and the MANY bands and projects he has been involved in. These are the unedited answers I got from Andrew: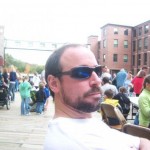 What is your musical background and when did you first pic up an instrument?
When I was about 3 years old, my mother bought my father a Guild acoustic guitar for his birthday and played nearly everyday as long as I could remember. He came from a musical family back in New Mexico, USA where his mother was the local Southern Baptist Church organist/pianist. My father's love of music and constant practicing around the house as well as jamming with his friend who lived upstairs from us had a huge impact on me. I started playing around with my Dad's guitar around 1978, but not very well (I was 7 years old, man!).
In 1983 when my neighbor played Def Leppard's "Pyromania" album for me, I was instantly hooked on guitar! I went around my neighborhood the next week-end and raked leaves from lawns to earn the cash to buy that album for myself! I would spend countless hours at the record playing trying to learn the songs by ear. For the next 6 years, this is how I would learn guitar to bands who really caught my ear with only a few months of lessons to learn how to read music. Other albums were Dokken's "Tooth & Nail", Ratt's "Out Of The Cellar", Scorpions "Love At First Sting" and later on Joe Satriani's "Surfing With The Alien".
In the summer before I began my junior year of high school (1987), Andres Segovia died. It was all over the news that night with live concert segments being aired in his honor. I was captivated with this master whom I had never heard before and decided that night that I would go to college for music.
In 1991, I earned my Associates in Fine Arts (AFA) with a major in Theoretical & Harmonic Analysis with a minor in Classical Guitar Performance. That education opened my eyes to whole new world of music I would have never heard if it weren't for my 20th Century music history classes and being educated on the masters of the Baroque and Classical periods, especially. This is where I learned and practiced Aleatory and Experimental music along side my traditional Baroque and Classical studies. After college, I worked in any many bands simultaneously depending on my availability and what project required my assistance as a guitarist and songwriter. These bands ranged from acoustic to pop to blues to progressive metal and was all possible because of my education, self and collegiate.

Besides the guitar do you master any other instrument?
Master may be too strong of a word, but I can certainly hold my own playing bass guitar. I do not practice any formal religion, but after I married my wife in 2005, I attended church with her and our son. Since my son and wife have a strong faith and I respect that, I found a way to be active within our church with them on Sundays. I joined the choir as the bassist. I wasn't asked, but I did approach the choir director and explained that I played bass and that the choir band lacked rhythm. As a bassists, I was able to add that rhythmic element that the 3 acoustic guitarists and organist could not do and of which these lively songs so desperately needed!
I also write for and play piano as well as sing quite well as a harmony singer (working on the lead part… confidence issue!).
I know you have been part of a band called Darkened Souls in the 90's. Could you tell me a little about that and if you have been part of other bands up until now?
DARKENED SOULS (1992 – 1996) was my absolute favorite band that I was ever part of for many reasons. The greatest reason was that in the very beginning, the singer (Jon Gonsalves) and bassist (Brian Martinelli) were my partners in crime and best friends! We were very creative together and complimented each others style and technique for a unique sound of 3 individuals sounding as one. The original drummer dropped out after a few shows and I pulled in George Breiter who I had already known for a while was a tremendous drummer and rock solid bass player as well! He balanced off the three of us and brought in a whole new feel and sound being such a solid "in the pocket" player with a thunderous bass drum. Jon, Brian and George are the most talented musicians I was ever in a single band with.
During our 4 years, we created a lot of progressive oriented songs with lots of Black Sabbath influence as well as early Metallica and Megadeth which had a "Stoner Rock" feel (our songs were a too long at times!), but lots of complicated, underlying time signatures and rhythmic interplay. We were very careful to not get too technical up front. We kept things accessible to the basic listeners  but had lots of little treats for the music heads who could appreciate the weaving of time and key signatures that we did. Even though we are no longer together or even in touch very much, I love these guys for how much I learned about rhythm playing and creating songs for the better cause of the song, not the individual. Class act players without a question!
Bands that I worked with during and after DARKENED SOULS…
SENSATION BOULEVARD (1993 – 1996) – Lead guitar, songwriter, backing vocals
Pop rock stepping stone band for a local acquaintance (Greg Lato). He wanted to get his lead singer act on the road and needed players to help with his demo and even help write. We used two of his songs on his demo and the other three were written by myself for his project. It was the lightest, fun music I ever composed, but it forced me to write for a specific audience and market which I had never done before. I am very proud of those three songs and still listen to them to this day. We actually won a few local talent contests with our act and gained a lot of exuberant younger fans. Greg had just graduated high school and the rhythm guitarist Matt Thornton was a senior at the time, so the audience reflected this age group while I was 23 and already out of college.
BLOOD VACUUM (1994) – live 12-string acoustic guitar player
Ann Rice inspired album of dark characters walking the line of life and death written by Matt Calistino (lead guitar/lead vocals) and Jon Gonsalves (piano/lead vocals) with Brian Martinelli on bass and George Breiter on drums for the studio. For live shows, there would also be a violin and viola player as well as myself on 12-string acoustic guitar. The few gigs that were played tended to be paired up with DARKENED SOULS since the entire band was part of the live BLOOD VACUUM band.
50 CENT DINOSAUR (1995 – 1997) – Lead guitar
Rock/Blues band that did GREEN DAY version of "Bye, Bye Love" (Everly Brothers) and a host of originals and covers all mixed up in a bluesy, drunken bar fight package :o) Gary Ceo was the lead of the band and pulled us all together for his "vision". He was a drummer who finally wanted to get up front and sing and play guitar. He would use a capo on his guitar so he could use all the chord forms he knew to play every song LOL! Brian Martinelli and George Breiter were also in this band. We had a good time being in two completely opposite bands at once; Jon singing in DARKENED SOULS and Gary in 50 CENT DINOSAUR.
PHATT VOLTSWAGON (1996 – 1997) – lead guitar, backing vocals
After DARKENED SOULS and 50 CENT DINOSAUR disbanded, I floated around open mic nights and focused on writing my own material that had not fit in the previous bands which were more acoustic and experimental… the seeds to BAD ANDROID and INFORMATION HARVEST. Brian Martinelli and his long time friend Jeff Tundis (singer/bassist JAZZ BASTARDS) asked me to join a rock oriented jam band based around PHISH and PRIMUS style with smartly placed hooks in between our jams. In May of 1997, found out that I was to be a father that coming February. I quit all projects and focused on getting my life in order for a baby…
UNITY GAIN (1999) – lead guitar, lead/backing vocals
After almost 2 years of no bands while being a single father who played only open mic nights and recorded rough track demos in his spare time, Brian Martinelli tempted me out of retirement with a new project. It was an offshoot of the current JAZZ BASTARDS which featured Brian on bass, Tom Rao on guitar and John Campion on drums. It was a band to simply have fun with no egos or conflicts. We played some covers that we had always had on our personal wish list of which I sang two Tom Petty songs and The J Giles Band tune, "Love Stinks". We called the band UNITY GAIN because of all the mixing board direct plug ins we had for our wall of sound. No gigs or originals, but it was fun and I had missed jamming with my friends!
YOUR MOTHER (2000 – 2001) – Lead guitar, bass, keys, backing vocals
UNITY GAIN faded away and I returned to the home studio and my friend Mark Richard's studio to record my song "Marriage Melody". Mark was itching to get into a band so one thing led to another and I called in Meg Butler for vocals and Brian Martinelli again for bass while he brought in Greg Arsenault on drums. It was straight forward rock band with keys and sax (Danny Cutler), but groove oriented. I played a variety of instruments so that other players could also have opportunities to play other instruments. Meg Butler was a very powerful vocalist and had a heavy Stevie Nicks influence. It was a lot of fun, but Brian, Greg and myself were feeling stifled after a while with the traditional rock format and wanted to open up the boundaries of key and time signature in a more compact core band.
ELIXIR (2001 – 2003) – lead guitar/backing vocalsGreg, Brian and I hooked up with long time friend Tom Rao again (JAZZ BASTARDS, UNITY GAIN) and brought in another old friend, Maria Tortolani for vocals. We were a high energy rock band with a heavy focus on groove and lyrical themes to suck the audience in. We had a solid hour long set that was never a bore to play. Everyone in the band contributed in some way or another to the writing. Unfortunately, the strain of being a full time single father while working full time drained me of much needed energy to be at 8:30 and 9pm rehearsals. Many times I would put my son to bed and lay down on the couch to watch TV before rehearsal and end up waking up at 11:30, missing rehearsal. Out of respect to my friends who I respected immensely  I had no choice but to leave the band.
MINDLESS BANTER (2005 – 2007) – Bass, backing vocalsCover band turned originals…
I had followed two friends (Dave Fisher – lead vocals/guitar and Nick Beauregard – guitar) as they played open mic nights with their acoustic approach to current hard rock covers and classic top 40 songs. When their second bassist Scott Trudeau left the band, he suggested to Nick and Dave that I play bass. They asked, I said yes, and so it began again.We played anything from "Respect" by Aretha Franklin to "Hell Yeah" by No Doubt to "Heaven's A Lie" by Lacuna Coil. We had a female singer (Jessica Hannon) with her husband (Ed Hannon) on keys, a drummer (Kevin Cartier) whose brother (Rob Cartier) played congas and bongos, two guitarists (Nick and Dave) and me on bass. It was lots of fun making money on covers and putting together some pop rock oriented originals. Since I had just recently been married, I was able to have some free time for jamming and it was a long over due fun! The band evolved into a 7 member beast and eventually dissolved due to personality and creative conflicts. In 2009, we did a reunion show in honor of Jessica's 25th birthday. Fun times!
Miscellaneous studio tidbits…
I also did some session work for Brian Martinelli, Mark Richard and Jeff Tundis as guest solos or other necessary guitar parts for their different songs, most recently a solo for the upcoming JAZZ BASTARDS album.. if my part doesn't get cut in final mix down/edit ;o) I am always interested in hearing about collaborations where my various skills can be of use.
Information Harvest and Bad Android are the two projects I came in contact with through SMT and the two projects are so different that it really proves what a creative and talented musician you are. Could you tell me a little more about the two projects?
INFORMATION HARVEST (1996 – present) is the culmination of several years worth of writing and recording for various projects and for my own personal future projects. After I sifted through 50 odd rough demos, I focused on 10 that I felt represented my rock guitar style the best. While I do not have a properly recorded album of this music at this point, my goal is to do so. Many of these songs are very important to me because of the various inspirations that brought them to be. Also, I just really like some of the riffs and sections regardless of how emotionally unattached to them I may be as compared to others.
BAD ANDROID (2005 – present) started as a way to inspire myself for different melodic approaches by back masking (playing recorded tracks backwards) as well as to create interlude sounds. In the beginning it was very hard rock oriented with a heavily distorted guitar and bass with my manipulated, backwards tracks played against the driving rock song. It wasn't until one evening when my uninspired and bored mood set a new course for BAD ANDROID's sound. The song "Alone" was my first song that did not rely on my over-driven guitar approach. I finally found value in crafting a mood from the music which I had pieced together one sound at a time.
In 2008, my wife was pregnant, but lost twins. It was devastating and as the old saying goes, "I write my best when sad/mad."… it rang true and I embraced the Aleatory/Experimental style by creating my 8:49 long sorrowful expression called "Who Knows?". It represented the 10 hours spent in the hospital with my wife and tries to convey feelings and thoughts during that time. Now the BAD ANDROID sail had been hoisted and I now knew what I had to do. In January of 2012, I composed "Hand, Foot, Mouth (molto rubato)" which firmly secured my new stylistic approach of soundscapes against traditional classical guitar for contrast and darkness. My next songs are already under development and will bring different subject matter while taking my sound crafting to new and challenging places for me to better express my ideas on a new musical journey.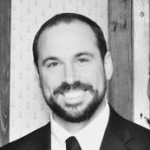 What do you do when you are not creating music?
I love watching war movies and anything on The History Channel or Discovery Channel. 1st person shooter games like Metal Of Honor are also part of that free time! Hiking, fishing and camping are also a very big part of my quality time with my ever growing family (wife, 15 year old son and two foster daughters at 9 months and 23 months). Cooking outdoors and entertaining family and friends is also a favorite past time of ours. Our outdoor grill is used even when it snows… the rack of ribs taste better that way!
Visit his pages to learn more and listen to his music:
Facebook: https://www.facebook.com/pages/Crossland-Studios/367127126718532 (Crossland Studios is the home of Bad Android, Welcome Home, Information Harvest and random songs by Andrew James Liles.)
ReverbNation: http://www.reverbnation.com/crosslandstudios
BandCamp: http://badandroid.bandcamp.com/album/bad-android-one
Listen to Blood Vacuum here: http://bloodvacuum.com/music.htm