The Psyke Project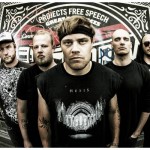 1st of April, fresh off the shelves, I bought this amazing album Guillotine from the Danish sludgy hardcore metal band The Psyke Project.

This is raw brutal blackened sludge post hardcore at it's finest. Martin Nielskov's vocal is raw anger/angst filled roars, that suits the music just perfectly. I can't express how much I enjoy this album, it's filled to the brim with greatness. The loud massive rumbling bass, delivered by Jeppe Skouv,  vibrates and chugs along giving a great contrast to the guitar structures that plays with your ears and brain in a most tickling way. Behind the guitars are Mikkel Vadstrup Schmidt and Christian Bonnesen. The drums are handled very well by Rasmus Gajhede Sejersen and lays a stable foundation to the rest of the great music.
The album offers much variation both in regards to each track on the album but also within each track. The tracks are all connected with the same overall sound and feeling making this album a very homogenous album.
If I have to pick out any recommended tracks it would be 'Partisan', it's eerie, dark and haunting and has a very nice final part where the repeated outcry from Martin just feels so right and so perfect :
And we pray for something that will never happen
Where the 'Partisan' releases it's grip on you 'The Mute' firmly reels you back in. The track 'Empire' continues in the same, more darker, corner of this album. After these 3 darker tracks the album continues in the angst-filled brutal pounding hardcore style. In the later part of the album we get a little breather with the instrumental 'When Man Became God' and shows of another side of the band – a lighter side.
The lyrics are very much on the darker side of life, the internal struggle of mankind, the ever searching for something better, anger, discontent, meaningless life. Not happy lyrics I tell you!
And to finish this post off, I leave you with the final lines from the final Track 'Menneske' (Sung/yelled in Danish):
Vi prøver at finde den rytme, den dans, den form der gør os tryggest.
I sådan fuldkommenhed vil døden lure
And isn't it just so…

More The Psyke Project here:
Website: http://www.thepsykeproject.com/
BandCamp: http://thepsykeproject.bandcamp.com/
Facebook: https://www.facebook.com/thepsykeproject
YouTube: http://www.youtube.com/user/ThePsykeProject