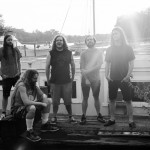 I have lost track now! Whatever music I listened to during week 11 has been lost forever. So instead of trying to figure it our and backtrack myself, I have chosen to write about a really nice release from Inter Arma – Sky Burial, out now on Relapse Records (and it actually falls in under week 11 now that I think about it, lucky me). I think this release will cement itself a place on my top albums of 2013! A little early for making lists, but I usually have a good feeling when it comes to this. I can feel it in my guts, it touches my inner feelings in a good way and that almost every time results in a long-term relationship with me.
I want to point out a track that really hits a chord in me – 'Destroyer': heavy drums, droning guitars that creates a hypnotic chant, angst filled vocal, it's dark, slow and gloomy. Just the way I like it!
But then when you think this can't get any better "sblood' starts pounding away and you are just lost: fierce drumming, grinding guitars. The Bass/Drum solo is just insane!
Next track 'Westward' takes off in the same manner, brutal and just utterly amazing.
As you can see I'm pretty taken by this album, so IF you like heavy doom, psychedelic sludge and a little out of this world great tracks, then get this!
More Inter Arma Here:
Facebook: https://www.facebook.com/INTERARMA
BandCamp: interarma.bandcamp.com/