So many bands dropped into my lap this week that I'm afraid it will take time to research and write this post. But I like it, so I'm not complaining. And I'm probably gonna chock you all with my last discovery of this post. It will reveal a band that BOTH me and my daughter likes and that is a small miracle in itself!
Strychnia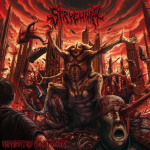 Hailing from the USA we have Strychnia. Strychnia have been following me since forever it seems on Twitter. They got a follow-back back in the days, but I never really took it upon myself to check them out.
And when I finally did I felt I had been missing out on something. This is a hard hitting brutally good Death/Thrash band! Well they have created some really interesting tracks that holds much ear-candy. The vocal is a really good rough screaming, with enough diversity to not make your brain feel like mush after 2 minutes, which some rough screaming high pitch vocals sometimes do with my brain. Anyhow this is so good that I had to support them and buy their album The Anatomy of Execution.
Their new EP Reanimated Monstrosity will be out in May 2013. They have just revealed the cover art, which is really good, just look to the left, and it's done by Marco Hasmann. They have also revealed the track-list and that there will be a special guest appearance on one of the tracks. And because I'm so late with this post, they have already announced that the guest vocalist will be John Gallagher of Dying Fetus! So my suggestion to you, is to go follow them and stay tuned for more information! In the meantime go buy (or download for free if you so choose) this great album!

More Strychnia here
Facebook: https://www.facebook.com/Strychnia
Twitter: https://twitter.com/strychnia
BandCamp: http://strychnia.bandcamp.com/
SoundCloud: https://soundcloud.com/strychnia
ReverbNation: http://www.reverbnation.com/strychnia
YouTube: http://www.youtube.com/user/xslaytheweakx
* * *
Pet The Preacher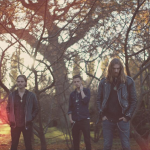 From my home-country Denmark I've found Pet The Preacher, they play some good prog-ish stoner rock that instantly puts me in a good mood.  I stumbled upon their promo-video for their upcoming Papa Zen EP and had to find out more about them. I found their first album The Banjo on BandCamp and bought it pretty much instantly without any real listen-through. Nice groovy stoner rock with just enough prog to make it interesting to listen to. Nice melodies that are bound to get your heard and body moving. My favourite track is actually the instrumental 'Listen', it has such a nice groove to it, sadly it is too short! 🙂 The Banjo is a concept album about a mans way out of his own hell. You get the lyrics when you buy it, so I suggest you do just that!
More Pet The Preacher here:
Facebook: https://www.facebook.com/petthepreacher
BandCamp: http://petthepreacher.bandcamp.com/
* * *
Rising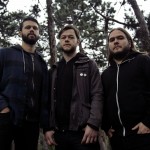 Because of Pet The Preacher I also discovered Rising, they too are from Denmark and plays some Red Fang sounding, fast forward, groovy, fun and aggressive sludge metal. Well if you like Red Fang you will like Rising! Funny thing is that on the first track if their album To Solemn Ash I hear some riffs that makes me think of Behemoth and then it shift to some Mastodon/Red Fang mash-up and the combination is somewhat funny and really interesting. Sadly I don't know if it is a good thing that I'm sitting here comparing Rising to other bands that they somewhat sound like. I have to stop that and actually listen to the great tracks they have actually made.
Rising is a three-piece formed back in 2008. The members are: Henrik W. Hald – vocals & bass, Jacob Krogholt – guitar & backing vocals and Jacob Johansen on drums.
More Rising Here:
Website: http://risingmetal.com/
Facebook: https://www.facebook.com/risingdk
Twitter: https://twitter.com/risingdk
BandCamp: http://rising.bandcamp.com/
SoundCloud: https://soundcloud.com/rising-3
ReverbNation: http://www.reverbnation.com/risingdk
YouTube: http://www.youtube.com/risingdkvid
* * *
Of Monsters & Men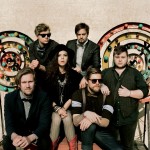 This band might cause you to raise your eyebrow and wonder if I have gone mad, but the moment I heard them on the radio, driving home from work I just knew I had to hear more! Even my daughter likes them and we have finally found common grounds musically! We have in the weeks that followed found more common grounds to stand on and I feel we are moving closer together musically. I don't automatically want to kill somebody when she put on her music, but if I dislike it I just starts to sing along, that usually fixes that… one way or the other haha
Well back to Of Monsters & Men. Icelandic 4-piece playing folk-pop, catchy as hell and really nice to listen to. I like their video's too as they are visually really pleasant to watch.
They fall under the same category as Hellsongs, First Aid Kit and the likes that I sometimes listen to too, not often, but it happens.
More Of Monsters & Men:
Website: http://www.ofmonstersandmen.com/
Facebook: https://www.facebook.com/ofmonstersandmen
Twitter: https://twitter.com/monstersandmen
YouTube/Vevo: https://www.youtube.com/user/OfMonstersAndMenVEVO