If you have ever been on a trek through vast magnificent landscapes, then you will relate to Dominic Deane's interpretation of what such a journey could sound like. Yukon Youth is based on Dominics personal experience of the extraordinary landscapes of Alaska and influenced by the tragic fate of Chris McCandless, who sadly starved to death after venturing into the Alaskan wild by himself in 1992. McCandless last 2 years has been portrayed in the book Into the Wild by Jon Krakauser (and in a film by Sean Penn). The new record captures this journey of isolation, beauty and harshness as a moody, dreamy, textural musical soundscape that shifts and evolves just as unpredictably as the beautiful but unforgiving Alaskan landscape.
For me personally Yukon Youth is a visual, warm and calming journey, which starts right from the opening track 'AE' as it trembles and radiates warmth over a cold landscape. Imagine the sun slowly rising over a vast landscape, barren mountain tops, pine trees covered in cold morning dew. The sun slowly spreading out its warmth and light, awakening the landscape – the morning dew transforms into dreamy morning fog which slowly rises and dissolves. The inner journey then continues to mysterious, beautiful landscapes, sparked by the sweet sounds of Ten's experimental electronic ambient shoegaze-y drones.
I love how the tracks vibrates and slowly grows with subtle changes. The ambience really stands out and though the majority of the tracks have an earthy warm feel to them, the track 'MM' sets your brain off to a journey to the deepest of oceans. The following track 'YN' has an airy flowing aura that pummels down into a foreboding, dark and dense environment in 'BD'. That dark and dense soundscape continues with even more intensity in the closing track 'YOYOYO' with rolling drums, eerie sounds and an inevitable end.
I've enjoyed every listen-through and depending on mood and the surrounding environment I have experienced it differently. Therefor it has not been easy to write about this release, not because the music is hard to grasp, it is completely the opposite – I have embraced it wholeheartedly.
The album contains nine tracks and 45 minutes worth of music to contemplate and daydream away to:
1. AE (6:25)
2. VZ (4:28)
3. FB (4:31)
4. CA (3:31)
5. DP (5:41)
6. MM (5:39)
7. YN (2:31)
8. BD (4:45)
9. YOYOYO (6:55)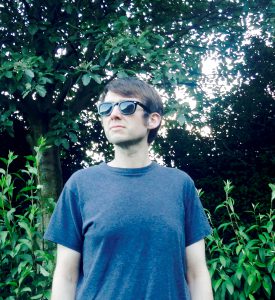 Leeds based artist and musician Dominic Deane has been making experimental and ambient music since 2009. He has also appeared in the group Sunwølf (which I've written about more than once), drummed for post hardcore group November Fires and leads the improvised band Trouble the Dark.
Yukon Youth has been on the way since late 2014 when the recordings began together with producer and engineer Ross Halden of Ghost Town Recordings and was finished during the summer of 2016. The mastering was done by Tim Hann.
The new Ten album will be out on the 31st of October through Ten's own record label Ten Recordings and will be available in CD and digital format.




Discography:
Journeys (2009)

Lowlands EP (2010)

East of the Elm EP (2012)

Demos (2013)

Triangle of Hope EP (2013)

Yukon Youth (2016)
More Ten here:
Website: tentheband.tumblr.com/
Bandcamp: tenthegreat.bandcamp.com
Soundcloud page: www.soundcloud.com/tenthegreat
Facebook: www.facebook.com/ten/
Twitter: twitter.com/TenfromLeeds