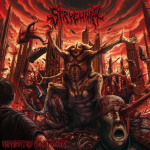 So the date is getting nearer, May 14th will be a good day, as a new EP from the talented guys in Strychnia will finally be released!
Here's the latest teaser track from the upcoming Reanimated Monstrosity featuring John Gallagher of Dying Fetus!
It's BRUTAL, so check it out! You will not be disappointed!
More Strychnia here
Facebook: https://www.facebook.com/Strychnia
Twitter: https://twitter.com/strychnia
BandCamp: http://strychnia.bandcamp.com/
SoundCloud: https://soundcloud.com/strychnia
ReverbNation: http://www.reverbnation.com/strychnia
YouTube: http://www.youtube.com/user/xslaytheweakx