To pick which artist I should cover in my premier post in this category caused me a lot of thinking. I have a lot of artists to chose from, but finally the choice fell on Andrew James Liles, probably the nicest man I've come to know through the now defunct site: SignMeTo RoadRunner Records (AKA: SMT). He has helped me out when I have had strange questions in regards of music terms or needed his opinion on music I have stumbled upon. This is very appreciated as I know he is a busy man.
Andrew has three active projects as of now Bad Android, Welcome Home and Information Harvest. where Welcome Home and Information Harvest are more traditional guitar projects, Bad Android is the complete opposite. It is no secret that Bad Android is closer to my heart.
Bad Android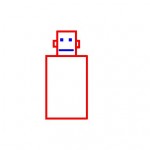 Bad Android is a very personal and experimental project, born out of boredom, musical frustration and the deepest sorrow and despair from the losing of a child. What I like about it is the skewed haunting sounds and the fact that he is not afraid of experimenting with sounds and thinking outside the box. He left his work out there for reviewing and scoring, when it was not something that were conventional or easy to listen to. That takes some courage, some self-distance and thick skin on the nose. And I truly respected him for that back in the SMT-days. For full coverage of the background of this project please read my interview with Andrew here!
When I first heard this on SMT Andrew wanted a personal reflection on his music and it was before I got to know him more personally. This is my first highly personal reflections and feelings that I got from listening to his music, I would love to hear what other thinks/feels about it, so feel free to comment below:
September 18th 2011:
How do you review feelings? You ask of feelings, I get pictures in my head when listening to this, I have written those down as the music played not taking notice of the time, so it might be a little hard to understand where I am at, these are highly personal feelings/thoughts so I am really exposing myself here 🙂

'Alone' – Alone in a semi-dark room waiting for something, the weird noises give some kind of haunted feel to it, a little like someone trying to contact another realm and slowly breaking the veil and at last breakthrough! Contact for awhile and then the curtain closes again leaving you alone again… I got a sad, unsettling feeling, a longing for not being alone so to say 🙂 And I came to think of old horror movies.

'New E minor' – At first relaxed early morning, sun is breaking, seagulls – then rebellious, driving fast, straight forward no looking back, determined – then lost/confused/disoriented, desert, sunset, birds of prey… Then of again, night only the headlights in the otherwise pitch black night, tail lights disappearing into the night, total blackness. The End. Soundtrack to a psycho road movie.

'Who Knows' – Underwater/In a bubble/Own universe, hearing your own heartbeat and the blood rushing in your own veins. Outside sounds are distorted. Trying to grasp onto thoughts that comes and goes like a diffuse fog. Numbness, outside of the body feeling, feeling nothing though still present, waiting, nightmare, despair, suspense, grinding pain, helplessness, lost. (7:38 I´m beginning to feel sick at this moment).
'Who Know Is' really unresting and I feel really bad physically after hearing it. I have got two kids of my own and knowing your back story did not make it easier to listen to it.

I could actually see you perform these songs on the New Gloria Stage on Roskilde Festival, Denmark accompanied with some really dark/subjective visuals.

I like these soundscapes… They create feelings just as Melodic Death Metal does to me, just in a little more unsettling way. And I thought I would never say these words, but I would have left out the Metal sounding guitar parts in New E minor 🙂 I might even want to see the drums go, they don´t seem to fit your sound.

You have my (almost) full support so no less than a 8/10 from me.
Creativity can never be a bad thing!
In December he then posted a new song that got this response from me:
'Hand, Foot, Mouth' – Eerie, skewed and beautiful in the beginning up until 02:41. Must say I felt uncomfortable from 03:09 I really didn't like it at all :S . But you came back on track in the end.
And my rating has gone stale, I would love to give you a 10, but you are too inconsistent, and I feel you are doing things in 'Hand, Foot and Mouth' that doesn't fit the Bad Android concept! Don't try to please other people (*cough*Wentworth*cough*) PLEASE ME INSTEAD! 😀
I'll give you an re-rate of 8/10 🙂
Well if you like to support the Bad Android project you can do so here:
BandCamp: http://badandroid.bandcamp.com/album/bad-android-one
Welcome Home and Information Harvest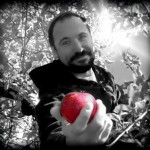 Where Bad Android is experimental and weird this is not! Under the name Welcome Home, Andrew is creating nice acoustic compositions. Not my cup of coffee, but I'm not totally put off by it. It is calm and beautiful and shows of his talent and skill as a composer. His working on an album, that hopefully will se the light of day soon.

Andrews rock/metal outlet is recorded and shared as Information Harvest, and isn't really what I listen to normally but it isn't bad.
As you can see Andrew is a talented man with many creative ideas. He's also interested in collaborations etc, so don't hesitate to contact him for details on that!
Visit his pages to learn more and listen to his music:
Facebook: https://www.facebook.com/pages/Crossland-Studios/367127126718532 (Crossland Studios is the home of Bad Android, Welcome Home, Information Harvest and random songs by Andrew James Liles.)
ReverbNation: http://www.reverbnation.com/crosslandstudios
BandCamp: http://badandroid.bandcamp.com/album/bad-android-one
Continue to my interview with Andrew here!
Indepth background information and interesting stories from his musical life.