Last week suddenly opened up a flood of new and exciting music to be discovered. I suddenly had lots of bands to chose from for this post, so lets not waste more words, lets get to it shall we?
(Echo)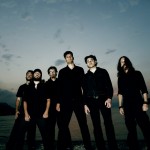 I got this band recommended to me and I knew quite soon that this would be a great new discovery!
(Echo) is an Italian atmospheric doom 6-piece formed in 2007. With heavy use of keys the music has a great atmospheric dreamy touch that blended with the dark and slow pacing guitars and bass creates a really enjoyable listen. The vocal is both a deep guttural growl and fine clean singing. Some of the really slow parts, where the guitars and bass are left hanging in the air with vibrating trembling strings my mind wanders off to Type O Negative, but otherwise I think that fans of Saturnus and Paradise Lost will like this a lot. Favourite tracks are Internal Morphosis and Omnivoid to name but a few.
More (Echo) here:
Facebook: https://www.facebook.com/echoband.official
(Echo) Bandcamp: http://echodoom.bandcamp.com/ (Demo EP)
BadMoodMan Music Bandcamp: http://badmoodmanmusic.bandcamp.com/album/devoid-of-illusions (Devoid of Illusion Abum)
Twitter: https://twitter.com/echometalband
* * *
Heart Of A Coward
Another recommendation from last week, and now we are in a totally different genre: hardcore/metal/djent mixed into a melting-pot of great riffs. I have some trouble with the vocal, which I think is on the verge of being tiresome, but the music saves it and makes it endurable to the point where I had to recommend them in this post. I usually don't like this type of music, but the mix of genres and the extremely interesting structures to the tracks makes me curious.
Sorry only streaming music through Spotify:
More Heart Of A Coward here:
Facebook: https://www.facebook.com/heartofacoward
* * *
Fubbix
Swedish jävlar anamma punk from Lund! I just get extremely happy listening to this and I really don't have anything else to say about that haha… 🙂
_
[soundcloud url="http://api.soundcloud.com/playlists/847451″ params="" width=" 100%" height="450″ iframe="true" /]
More Fubbix here:
Facebook: https://www.facebook.com/fubbix
* * *
Sorcery
Swedish Death Metal at it's finest! Sorcery was formed back in 1986 and are now in 2013 ready with a new release called 'Arrival At Six'.
I like it, it has some really nice riffs and have a great old school sound. My favourite tracks are 'Created From Darkness And Rage' and the title track 'Arrival At Six' but all of the tracks are straight forward, blasting death metal.
Sadly I haven't been able to find any streaming media available to the vast majority, they ARE on Spotify however. Their record lable Xtreem Music have uploaded this 1 picture video, so you can at least get a taste of what they have to offer:

More Sorcery here:
Website: http://www.sorcery.se/
Facebook: https://www.facebook.com/pages/Sorcery/308658977440
* * *
Undergang
Last but not least!!! This band just blew my mind yesterday evening and instantly won a given place in this post today! I've actually listened to Undergang before, but it was their latest release from 2012 I heard then, and it really didn't grab my attention. BUT then yesterday evening I listenend to 'Indhentet Af Døden' and was totally in ecstasy when the first track 'Englemagerske' evolves from just great, into pure awesomeness at the 01:04 mark. This Album is better, in my oppinion, than 'Til Døden Os Skiller', but I'm going to give their sophomore release a new chance. The brutality and the extremely heavy bass and guitar riffs just makes a massive grinding wall of sound. There are so much to discover in the songs if you only listen. The vocal, well, this should be in Danish, I think, but as I can not hear a single word belted out with the heavy effects added, I can not tell you if it is so or not. Even with the lyrics presented, I can not for the life of me hear any words haha. If I have to recommend a track it would be 'Tvangstanker' it has some really great grinding passages, and some nice guitar riffs that breaks of the massive wall of chugging guitars just perfectly every now and then. But also the title track 'Indhentet Af Døden' is a great track to start with.
As you understand I'm really happy with this album, which I bought, even-though you can get if for free if you are so poor you don't have some bucks to spare 🙂
Undergang hails from Denmark and was formed as a band in 2008. This is extremely brutal Death Metal and I love it…
More Undergang here:
Facebook: https://www.facebook.com/pages/Undergang/
Bandcamp: http://undergang.bandcamp.com/
And I can already reveal that my music recommendations for week 4 will be a 'special' one in 'celebration' of certain events… The number 4 and zero being a big part of it 😉