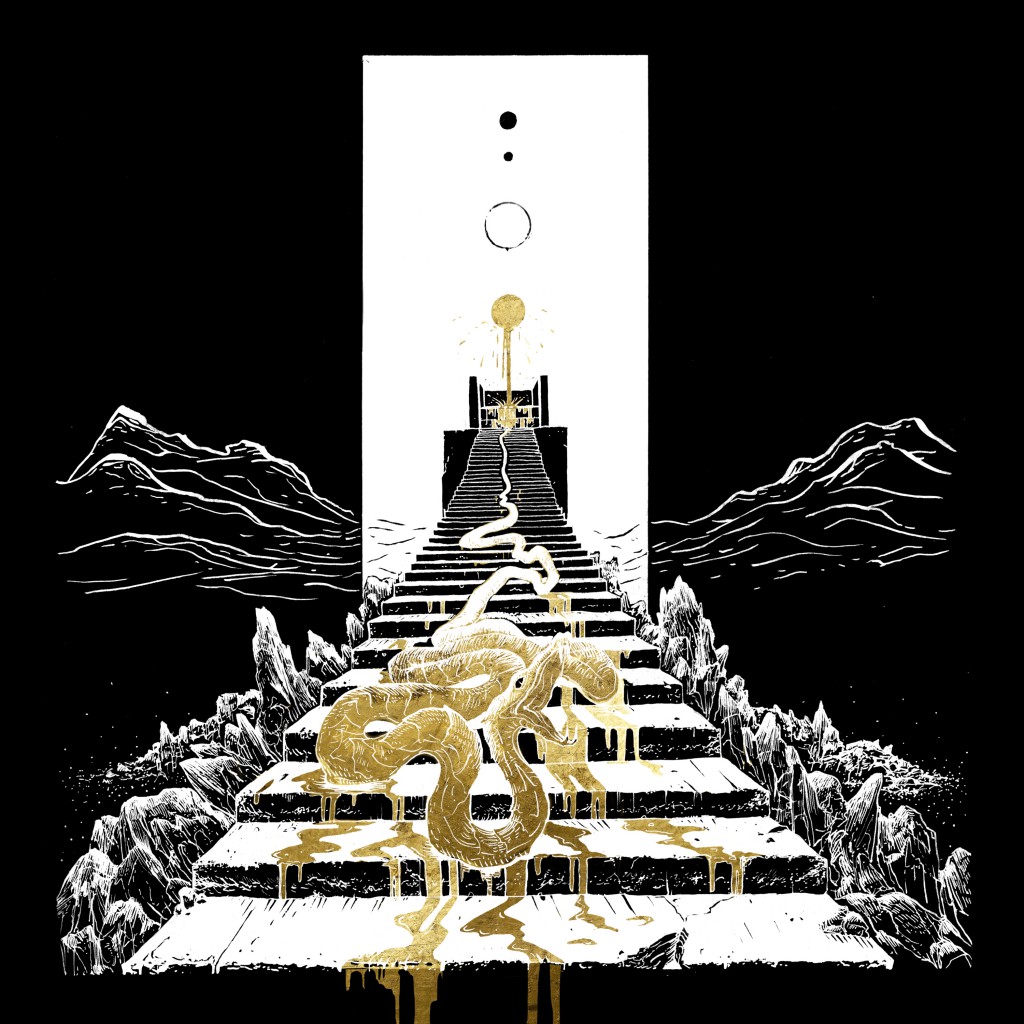 Ever since I heard 'Sleep Eater' I have awaited this release impatiently and wondered how on earth Wovoka would manage to keep the standard of that brilliant track on an entire album. Now I know – The entire album is an adventure, stomping forward like a gigantic boulder falling down a mountain, falling uncontrollable downwards, changing course at every bump and slide, and you know it will eventually land with an gigantic impact, but where and how hard? Saros' tumble downwards is a mesmerizing one, a force of nature, unstoppable, beautiful and a bit terrifying, diffuse and elusive as a Fata Morgana.
I haven't felt so exhilarated about the release of an album in a long time. But sometimes you have to wait for the gems to appear. The drums steadfast thunderous roll, the guitars rumbling grind, the bass' thick layer of bubbling hot tar and the roars of frustration can't and won't leave you unmarked. Wovoka paints a bleak atmospheric post-metal/sludge-ish soundscape using spacious trembling passages that oozes desolation and torment, vast and claustrophobic all at once.
I've already written down my praise to 'Sleep Eater' which was a massive ride, and it felt like seeing and old dear friend when the very first note of that track started. But 'Sleep Eater has gotten enough of my praise now so I'm going to focus on some of the other tracks of this brilliant album instead.
'The Sight' has some passages that is otherworldly painful to listen to, in a good way! And the intro to 'Trial' feels razor sharp and grows into a massively grinding wall of sound, the mix and production is stellar on this album!
'Prayer' surprised me with its different style – it has an eerie industrial atmosphere and it hauntingly forebodes the end, it is a perfect prelude to the last song 'Eclipse'. 'Eclipse' drags itself forward, moves its massive being towards you, you feel cornered as its shadow grows above and around you until it engulfs you entirely and leaves you in total darkness. When you think this is the end, the beast awakes again with a jolt of energy which sparks a total chaotic discharge accompanied by the last desperate roars of a lost soul – "There is nothing".
I can't say that this album has left me unaffected, because it has. My first notes I plotted down was: My heart hurts, my guts are being twisted by a cold hand, bleak and powerful, no words. Speechless…
And did I mention that the cover created by Daniel Obzejta is a piece of art? Stunning!
Wovoka:
Eric Kniss – Guitar & Vocals
Rashid Nadjib – Bass
Cody Schnieders – Guitar & Vocals
Troy Schoenbaum – Drums
My daughter asked if she could try and review it too and I said sure! So here are the thoughts of my 15-year old daughter (Who doesn't listen to anything remotely heavy usually):
Boring, depressive, irritating, you don't hear what they are singing, if they are using words that is… are they using word?! It sounds like he is puking and/or shouting for help.  You don't get happy by listening to this. Too bleak and dark for my taste. Not happy songs.
If you ask me, it pretty much sums it up and that is why I like Saros!
More Wovoka here:
Facebook: http://www.facebook.com/officialwovoka
Bandcamp: https://wovoka.bandcamp.com/
Bigcartel: http://wovoka.bigcartel.com/
Twitter: https://twitter.com/officialwovoka
Instagram: https://instagram.com/wovokagram/