All My Faith Lost…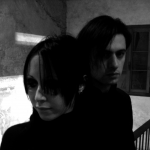 I got this band recommended and I must say that this was a pleasant new discovery.
All My Faith Lost… was founded 1999 in Italy. The core of the band today is Viola Roccagli: vocals, lyrics, flute, pianoforte, synth and Federico Salvador: vocals, lyrics, acoustic and classic guitars and toy ukulele.
I started out with their 2007 release The Hours, a beautiful album, where the violin, cello, guitar and piano makes some really light delicate acoustic, ethereal, Gothic melodies. I was really taken by the violin and the acoustic guitar  in some of the tracks. So full of sadness…
The vocal is breathy, soft and light just as the music. The lyrics ooze of sorrow, heartbreak, loss and longing and that is the overall feeling you'll get from listening to this.
I'm not going to say much more about this as I think the music speaks for itself, just listen…
More All My Faith Lost… here:
Website: http://www.allmyfaithlost.com/
Facebook: https://www.facebook.com/pages/All-my-faith-lost-OFFICIAL/112186698277
Bandcamp: http://allmyfaithlost.bandcamp.com/
 * * *
Hammock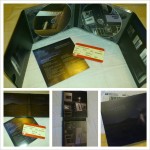 And then we have Hammock, an ambient/post-rock project of Marc Byrd and Andrew Thompson from Nashville, USA. I really like the sound and feeling of their music, and bought their beautiful, eco-friendly, eight-panel gatefold digipak featuring a lyric sheet and train ticket to Nowhere, as soon as I heard the first tracks of the album 'Departure Songs'. They are now on my shortlist of great post-rock bands together with sleepmakeswaves and God Is An Astronaut.
Hammock has a melancholic darker stroke but also a breathtaking fluid beauty in their songs. The spacey grand sound both hurls you out to a dark endless universe with shooting starts, black holes and slowly rotating galaxies, and at the same time takes you back to life altering memories, where you experience everything in slow-motion or even backwards through a glowing warm filter. This is music you feel with your entire body.
Even though they seem to be quite popular I've never heard of them before, so I'm very happy that I discovered them during week 15!


More Hammock Here:
Website: http://hammockmusic.com/
BandCamp: http://hammock.bandcamp.com/
Facebook: https://www.facebook.com/hammockmusic
Twitter: https://twitter.com/hammockmusic
YouTube: http://www.youtube.com/user/Hammockmusic?feature=watch (They have got some visually stunning videos)