Well I'm trying to catch up on these, but it seems I will be out of sync for some time to come, as I, as a single mother of two, have more important things to take care of, than to write these blog posts. But I will keep writing them as I enjoy the writing process and the music needs to be heard, if only by myself haha. Week nine proved to be a good week and you should definitely go check out the two bands I am about to write about.
Necroblaspheme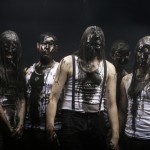 Necroblaspheme from France was recommended to me on Twitter and I was totally blown away, this is f***ing good! Brutal, groovy and 'catchy' death metal. I find my self hitting the play button over and over after each listen of their absolutely perfect EP XXVI : The Deeper – The Better (Which you can get for free btw from their website. Which I hate, this good music shouldn't be free, it should cost a lot of money haha)
The band formed in 2001 and consist of Yann on vocal, Lychar on guitars, Xav on the heavy duty of the bass and Arnaud Vansteenkiste beating the shit out of the Drums. Their sound is brutal and massive. It is so tight and extremely well played, I really can't describe in words how much I like this EP! That's how good it is!
Now without further due…. GO DOWNLOAD IT, turn up the volume and prepare for some extremely good death metal. Then SHARE IT with the rest of the world, because this deserves to be heard!
I have no favourite track as they are ALL favourite tracks…period!
More Necroblaspheme here:
Website: http://www.thedeeper-thebetter.com/
Facebook: https://www.facebook.com/necroblaspheme.page.officielle
Twitter: https://twitter.com/NecroBandParis
BandCamp: http://necroblaspheme.bandcamp.com/
ReverbNation: http://www.reverbnation.com/necroblaspheme
SoundCloud: https://soundcloud.com/necroblaspheme
* * *
Milanku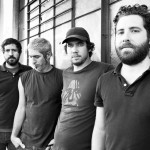 Heading over to a 'slightly' different genre and to a band that resides far from France. Milanku is a Canadian 4-piece formed in 2006. They play something I would describe as raw and beautiful post-rock with great ambiance and melancholy. It is relaxed but still has a nerve to it, that demands your full attention. The raw screamed vocal stands strong together with the rough but beautiful music. I don't know but I get this calm angst filled feeling listening to this, sounds strange but that is how I perceive it.
I came to discover this band as I follow Replenish Records on BandCamp. That is a great way to be notified about new releases, I can only recommend it. So follow your favourite record labels/distros!
To pick a favourite track from their album Pris á la Gorge has proven difficult, I'm sitting here trying to pick one. There are a hair raising moment in 'L'Inclination', where the guitar takes you out to a void where only the music exists, but even the opening track 'La Chute' with the female spoken word intro is great, and then there is 'Hypomanie'…
Well you pick your favourite track yourself!

More Milanku here:
Facebook: https://www.facebook.com/milankuband
BandCamp: http://milanku.bandcamp.com/